Houston Foot and Ankle Surgeon
How to Take Care of your Feet and Nails
1. - Make sure you wash your feet every day. - The feet tend to get dirty and to sweat more than other parts of the body, so having good hygienic habits is important. If you shower in the morning and not at night, at least try to wash your feet is a routine when you get home at night.
Apart from being a habit of good hygiene, it will also prevent you from contaminating your bed with dirt.
Wash them with soap and warm water. This will cleanse your feet of sweat, dust and bacteria that could live in that place. Pay more attention to the spaces between the toes. Then, dry them gently with a towel.
Keep your toenails clean. If you walk in sandals during the summer, you will see that the nails get dirty, so take the time to clean them every time you wash your feet.
2. - Hydrate your feet every day. - As part of your routine, apply body cream or foot cream. One of the ways for the feet to be soft and hydrated is to rub a little body cream or petroleum jelly before going to sleep and then put on socks. When you wake up in the morning, you will see that your feet will be soft and without dryness! Just remember that you should not over-hydrate the area between the toes, but fungi could sprout.
3. - Put on the appropriate shoes for every occasion. - Your feet will be healthier if you wear the appropriate footwear so that they are clean, dry and at a comfortable temperature. You are supposed to wear clothes to be comfortable in different weather conditions, so you should do the same for your feet.
Keep them cool in the summer with sandals and shoes that are ventilated. If in the summer you wear shoes that warm them, you could end up with a bad smell or a fungal infection.
Keep them warm in the winter with waterproof boots and socks. If you wear shoes that do not warm them enough, you will be more prone to freezing.
4. - Eliminates the bad smell. - Dealing with the bad smell is a problem that many people face, since the feet produce more sweat than the rest of the body and tend to harbor bacteria that generate the bad smell. If your case has gone out of control, you can take certain measures so that the odor improves immediately.
Try changing your socks more often. If your feet tend to sweat a lot during the day, take with you a pair of extra socks to decrease the odor that accumulates. Change your socks when they get wet with sweat.
Keep your shoes clean. Sometimes, the bad smell is worse when the sweat and bacteria accumulate in the shoes, because after you put them on, the problem will persist. Put on your shoes with socks, clean them frequently and buy a new pair of shoes when it's time to reduce the bad smell.
5. - Dry mantels. - Athlete's foot and other types of fungi tend to develop in wet conditions. A few variations in your hygiene routine will keep you from dealing with those unpleasant conditions, which usually cause itchy rashes.
Change your socks frequently. This is the method par excellence to avoid all kinds of problems related to the feet, from the bad smell to the mushrooms. Wearing wet socks provides the perfect environment for mushrooms to grow, so change them often, especially if you sweat a lot.
Use talcum powder for feet. Many people add talcum powder to their shoes so everything is clean and dry.
6. - Dúchate with tranquility. - If you shower in a changing room or other public place, take steps so that you do not end up with the fungus on someone else's feet. Showers are usually humid environments that harbor fungi and bacteria. We do not recommend you to bathe in a public shower without protecting your feet beforehand.
7. - Cut your toenails properly. - Every few weeks, cut your toenails so they stay healthy and strong. Cutting them incorrectly may cause ingrown toenails, which can be very painful. Cut them straight, do not cut the edges in a curve. You should also avoid cutting too much, otherwise you could end up with an ingrown toenail or an infection.
Source: WikiHow
RIVERA FOOT & ANKLE: At Orlando H.Rivera DPM, our priority is to deliver quality care to informed patients in a comfortable and convenient setting. When you have problems with your feet, you need to turn to a podiatrist who listens and responds… an experienced doctor who knows the field and can effectively diagnose and treat your needs… a friendly physician who counsels you on the best ways to maintain and improve your health. Our physician(s) meet all these criteria. Plus, you benefit from a dedicated team of trained professionals who give you the individualized attention you deserve.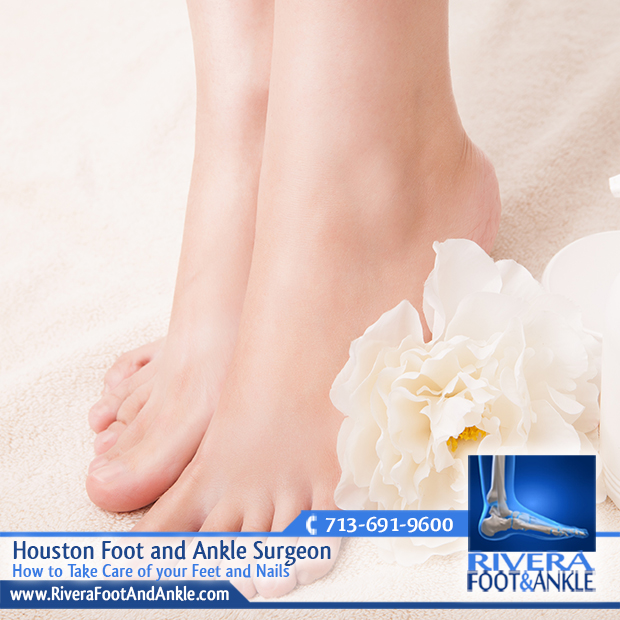 Houston Foot and Ankle Surgeon.
Foot and Ankle, Dr. Orlando Rivera, Advanced Foot & Ankle Specialist, Foot and Ankle Podiatry, Houston Foot & Ankle Surgical, Treatment of Foot and Ankle, Foot & ankle specialists, Podiatrist in houston, podiatrist in houston, Orlando H.Rivera DPM, Houston Foot Doctor, Foot and Ankle Surgeon Houston, Ankle and Foot Specialist Houston, Podiatrist Houston, Foot Pain Houston.