Tips for Foot and Ankle in Houston
How to Remove the Bad Smell of the Feet
1. - Restriégate the feet. - It's obvious, but it will not be enough just to rub them quickly with soap and water in the shower. The goal is to eliminate all bacteria and dead skin cells from which the bacteria feed. So when you wash your feet, exfoliate the entire surface of the foot with a washcloth, a brush or any other abrasive item, also use antibacterial soap.
Do not forget to rub yourself well between the toes.
2. - Dry your feet. - When drying, dry them completely. Humidity, whether from water or sweat, is what makes a fertile field for bacteria to come out. Take the time to dry your feet well and do not neglect the space between your fingers.
3. - Use a hand sanitizer gel. - It may sound weird, but a perfumed (or unscented) hand gel can kill germs on the feet and inhibit the growth of bacteria.
4. - Use antiperspirant. - The same type of antiperspirant that you use for the armpits can be used for the feet, but make sure you have a separate one for each area where you use it. Apply it on clean, dry feet at night, then put on your socks and shoes as usual in the morning. This will help keep your feet dry and fresh during the day.
5. - Have a mixture of half common vinegar and half isopropyl alcohol. - Use a trickle daily (with a dropper) above and between your fingers. You can also put it on the irritated skin of the feet and spread it. None of these ingredients harms the skin, but vinegar kills fungi and alcohol eliminates bacteria. It also helps that you know how to eliminate the fungus from the toenails on contact.
6. - Rub the feet with one or more of the following powders. - Use it also between the fingers. The following is what most foot powder and sprays contain to combat odor:
Talcum powder: it is astringent, so it will dry the feet.
Baking soda: creates an alkaline environment that is not friendly with bacteria.
Corn starch: helps absorb moisture.
Source: WikiHow
RIVERA FOOT & ANKLE: At Orlando H.Rivera DPM, our priority is to deliver quality care to informed patients in a comfortable and convenient setting. When you have problems with your feet, you need to turn to a podiatrist who listens and responds… an experienced doctor who knows the field and can effectively diagnose and treat your needs… a friendly physician who counsels you on the best ways to maintain and improve your health. Our physician(s) meet all these criteria. Plus, you benefit from a dedicated team of trained professionals who give you the individualized attention you deserve.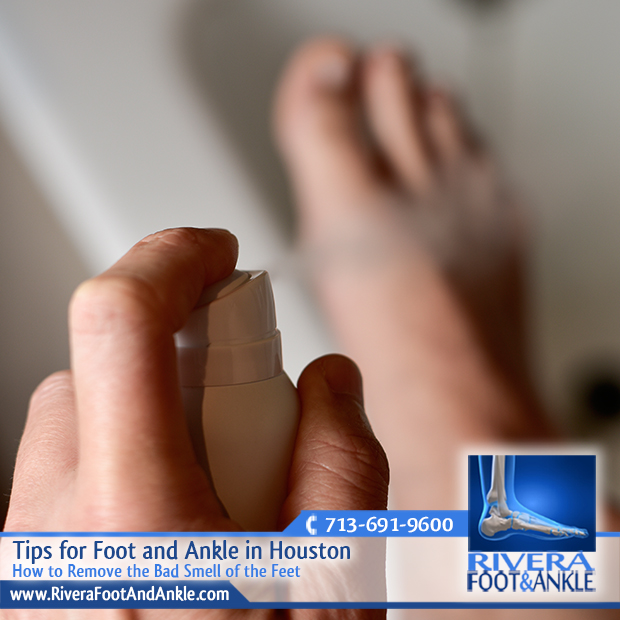 Foot and Ankle in Houston.
Foot and Ankle, Dr. Orlando Rivera, Advanced Foot & Ankle Specialist, Foot and Ankle Podiatry, Houston Foot & Ankle Surgical, Treatment of Foot and Ankle, Foot & ankle specialists, Podiatrist in houston, podiatrist in houston, Orlando H.Rivera DPM, Houston Foot Doctor, Foot and Ankle Surgeon Houston, Ankle and Foot Specialist Houston, Podiatrist Houston, Foot Pain Houston.