Treatment of Foot and Ankle in Houston
Take Care of a Broken Toe of your Foot
1. - Take care of your toe until going to visit your doctor. - Fill a plastic bag to store food with ice cubes, wrap it in a dishcloth and place it on the injured finger. Do it at 20 minute intervals, until you can go to the doctor.
The ice will help reduce inflammation and stabilize the toe. Keep your foot up, as much as possible, and do not try to walk a lot by leaning on it.
2. - Follow the instructions of your doctor. - During the visit to your doctor, he will take an x-ray and then give you instructions on how to take care of your toe. In some cases, the doctor will realign the bone. In severe cases, you may need surgery to put nails or screws in your toe to keep the bones in place.
3. - Rest the broken toe of the foot. - Do not perform the activity that caused the injury in the first place and avoid other activities that exert pressure on the toe. Walking slowly, swimming or riding a bike could be fine, but it is not advisable to run or practice contact sports for several weeks. Continue resting your finger for the time prescribed by your doctor.
4. - Change the bandages if necessary. - Most fractures and broken toe do not require a plaster, but the doctor will show you how to "tape" the broken toe with your finger next to it. This will prevent it from getting out of place and prevent you from injuring it again. Ask your doctor or nurse to show you how to properly change the tape and gauze after a few days to keep the area clean.
5. - Take care of a serious break according to your doctor's instructions. - If the break is severe enough to require a cast, splint or special walking shoes, you will probably need absolute rest for 6 to 8 weeks. Breaks that require surgery could involve longer periods of time to heal. You may have to visit the doctor several times to make sure you are healing correctly.
Source: WikiHow
RIVERA FOOT & ANKLE: At Orlando H.Rivera DPM, our priority is to deliver quality care to informed patients in a comfortable and convenient setting. When you have problems with your feet, you need to turn to a podiatrist who listens and responds… an experienced doctor who knows the field and can effectively diagnose and treat your needs… a friendly physician who counsels you on the best ways to maintain and improve your health. Our physician(s) meet all these criteria. Plus, you benefit from a dedicated team of trained professionals who give you the individualized attention you deserve.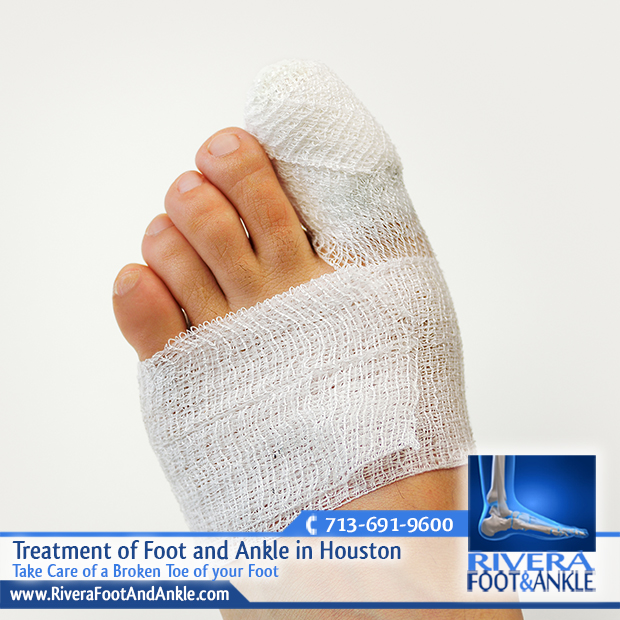 Treatment of Foot and Ankle in Houston.
Foot and Ankle, Dr. Orlando Rivera, Advanced Foot & Ankle Specialist, Foot and Ankle Podiatry, Houston Foot & Ankle Surgical, Treatment of Foot and Ankle, Foot & ankle specialists, Podiatrist in houston, podiatrist in houston, Orlando H.Rivera DPM, Houston Foot Doctor, Foot and Ankle Surgeon Houston, Ankle and Foot Specialist Houston, Podiatrist Houston, Foot Pain Houston.