How to Tell if a Toe is Fractured
1. - Evaluate your pain level. - If your finger is fractured, it will hurt when you support your weight on it or when you press it. It is likely that you are still able to walk, but moving could make the pain worse.
The presence of pain does not necessarily mean that you have fractured your finger, but persistent pain may be a sign of a fracture or breakage.
2. - Examine the size of your toe. - It is swollen? This is a common signal that you may have a fracture. If you just hit your toe, it will beat for a while and then the pain will disappear without swelling. It is very likely that a fractured finger swells.
3. - Look at the shape of your toe. - When comparing the finger that hurts with the corresponding finger of the other foot, is it deformed or out of joint? If so, you are likely to have a serious break and have to go see your doctor immediately. A fracture does not change the shape of a toe.
4. - Look for discoloration. - Fractured fingers, unlike beaten fingers, usually end up with bruising and discoloration. Your finger could turn red, yellow, blue or black. Also, it could bleed. All these are indications that you could have broken your toe.
5. - Touch the toe. - If you can feel that the bone moves inside or if any movement in the toe feels strange (in addition to the painful sensation), then it is probably broken.
6. - You must know when to see a doctor. - If the pain, discoloration and swelling persist for more than a couple of days, you should go to the doctor. You probably need an x-ray to verify the break. In many cases, the doctor will ask you not to touch your toe and simply let it heal. However, some severe breaks may require another type of medical intervention.
Source: WikiHow
RIVERA FOOT & ANKLE: At Orlando H.Rivera DPM, our priority is to deliver quality care to informed patients in a comfortable and convenient setting. When you have problems with your feet, you need to turn to a podiatrist who listens and responds… an experienced doctor who knows the field and can effectively diagnose and treat your needs… a friendly physician who counsels you on the best ways to maintain and improve your health. Our physician(s) meet all these criteria. Plus, you benefit from a dedicated team of trained professionals who give you the individualized attention you deserve.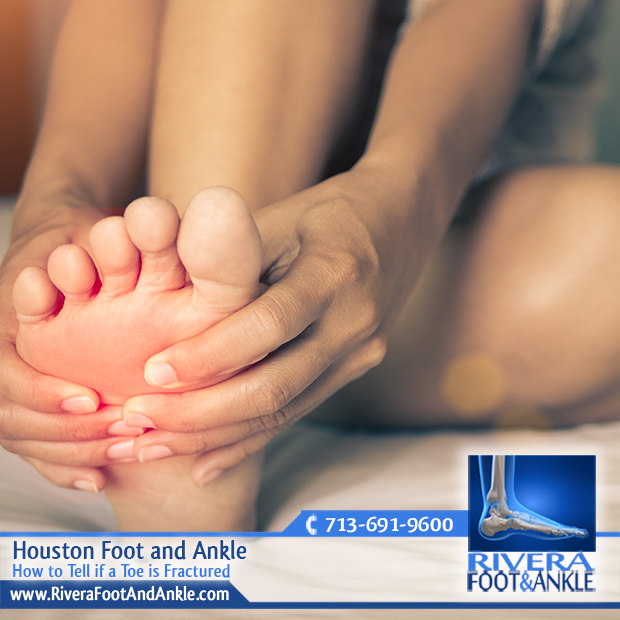 Houston Foot and Ankle.
Foot and Ankle, Dr. Orlando Rivera, Advanced Foot & Ankle Specialist, Foot and Ankle Podiatry, Houston Foot & Ankle Surgical, Treatment of Foot and Ankle, Foot & ankle specialists, Podiatrist in houston, podiatrist in houston, Orlando H.Rivera DPM, Houston Foot Doctor, Foot and Ankle Surgeon Houston, Ankle and Foot Specialist Houston, Podiatrist Houston, Foot Pain Houston.