Choosing Comfortable Walking Shoes
Foot and Ankle
1. - When walking, the first part of the foot that touches the ground is the heel. - Then, gradually, the whole surface is supported to the fingers. For this, you need your footwear to have a flexible sole and greater ability to bend the front than the running shoes. It is important that you can rotate and bend the area of ​​your fingers.
2. - Look for a shoe that is light and allows you to "breathe" at your feet. - The last thing you want is a shoe to walk too heavy.
3. - Make sure the shoe fits properly. You should also make sure your fingers have enough space. - There should be a gap of about half an inch between your fingers and the edge of the shoe, and there should be enough space for your fingers to move freely. The heel should be firm and the shoe should not be tightened anywhere, but especially in the arch area of ​​the foot.
4. - Try a new shoe at the end of a day of work or after walking, so that your feet are slightly swollen. - Also, be sure to wear the same shoes you wear when walking. This can make a big difference in the way the shoe fits. Try the shoes on both feet, as they may not be both the same size.
5. - Walk for a few minutes on a hard surface. - It's worth the effort to find the right shoes, and it's also worth spending a little more money.
6. - Wear new shoes inside the house for a few days to try them out. - Do not venture out for a walk until you are sure that your shoes look good on you. (If your shoes are not comfortable, you will probably want to change them, and you will not be able to do it and you go out with them and get dirty).
7. Keep track of how many kilometers you have walked with your shoes, and change them to new ones every 450 to 800 kilometers (300 to 600 miles). - If your shoes are very light, if you are overweight or give a heavy use to shoes, they will probably last only about 450 kilometers. To extend the life of your footwear, be sure to use it only when you go for a walk. It is also useful to have two pairs of shoes to alternate them in your walks.
8. - Consider all these aspects when buying your next pair of walking shoes. - Your feet and your legs will thank you.
Source: WikiHow
RIVERA FOOT & ANKLE: At Orlando H.Rivera DPM, our priority is to deliver quality care to informed patients in a comfortable and convenient setting. When you have problems with your feet, you need to turn to a podiatrist who listens and responds… an experienced doctor who knows the field and can effectively diagnose and treat your needs… a friendly physician who counsels you on the best ways to maintain and improve your health. Our physician(s) meet all these criteria. Plus, you benefit from a dedicated team of trained professionals who give you the individualized attention you deserve.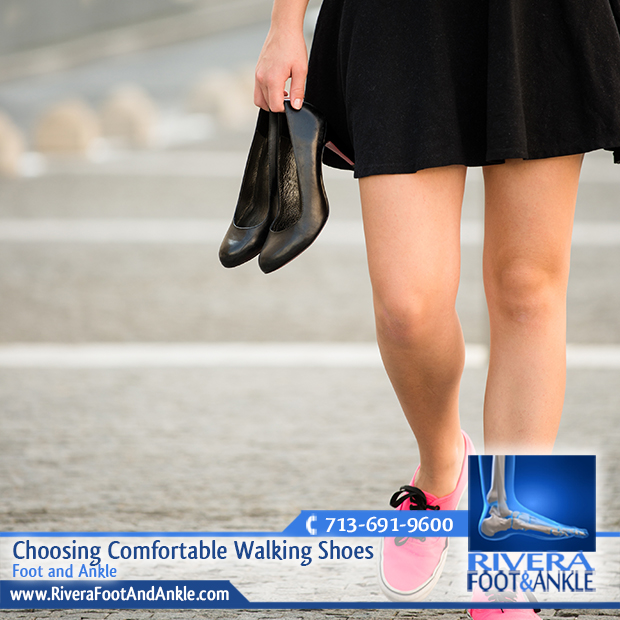 Foot and Ankle.
Foot and Ankle, Dr. Orlando Rivera, Advanced Foot & Ankle Specialist, Foot and Ankle Podiatry, Houston Foot & Ankle Surgical, Treatment of Foot and Ankle, Foot & ankle specialists, Podiatrist in houston, podiatrist in houston, Orlando H.Rivera DPM, Houston Foot Doctor, Foot and Ankle Surgeon Houston, Ankle and Foot Specialist Houston, Podiatrist Houston, Foot Pain Houston.