Treatment of Foot and Ankle
1. - Wear shoes that fit well. - Most bunions occur in women who usually wear shoes that are too narrow for their feet. Narrow shoes tend to cramp the fingers (particularly the thumb) and significantly increase the risk of developing bunions and other foot problems.
Changing to shoes that have broad tips, good bow support and fit your foot shapes, can help prevent bunions and even prevent their progression, but will not correct an existing bunion. In other words, switch to better shoes before the bunion gets worse and create important symptoms.
2. - Control the pain naturally. - In addition to the crooked appearance and compromised aesthetics of the foot, the main complaint of bunions is pain when walking (and sometimes when resting). Pain can be described as sharp and stabbing (like an acute joint sprain) or, sometimes, as mild and constant (similar to osteoarthritis). Therefore, it is important to control the pain of the bunion. However, you do not need to rely strictly on over-the-counter medications. There are a variety of herbal remedies that can combat pain and inflammation, which include turmeric, cat's claw, ginger root and willow bark. They can be taken as capsules or as herbal tea. The effective dose for most herbal remedies is not well established and depends on many factors such as purity and concentration.
3. - Apply cold therapy. - If you notice that your toe joint is red, swollen and tender after doing exercises or a day at work, then apply cold therapy to reduce swelling and numb the pain. The application of ice (or anything frozen) is an effective natural treatment for any minor musculoskeletal distension or sprain, including bunions, as it contracts the blood vessels and reduces blood flow and lymphatic fluid from the injured area. Cold therapy should be applied to your toe for 10 to 15 minutes every hour until pain and swelling subsides.
4. - Consider a salt bath. - If your bunion has been a chronic problem for many months or years and feels stiffer than swollen, then soaking it in a hot bath with Epsom salt can provide relief. Hot water will improve circulation and salt (with high magnesium content) will reduce ligament and tendon tension, joint stiffness and pain. Soak your entire foot for about 20 minutes and repeat this procedure daily to treat a chronic bunion. Soaking your foot in the morning, before exercising or going to work, is a good way to make the bunion more flexible and less symptomatic at the end of the day.
5. - Apply a splint at night. - If your thumb of the foot looks crooked and causes discomfort, then consider applying a splint at night as a structural support. You should leave the splint on while you sleep. Depending on how advanced the bunion is, putting a plastic or metal splint around the affected toe can reduce pain and re-align the joint. A splint for the bunion should be placed longitudinally over the finger, which results in the application of a corrective force. However, the splints are mainly for prevention and are not made to completely reverse the bunion. Bunion splints can be found at most medical supply or rehabilitation stores, but consult with your doctor or podiatrist before using one.
Source: WikiHow
RIVERA FOOT & ANKLE: At Orlando H.Rivera DPM, our priority is to deliver quality care to informed patients in a comfortable and convenient setting. When you have problems with your feet, you need to turn to a podiatrist who listens and responds… an experienced doctor who knows the field and can effectively diagnose and treat your needs… a friendly physician who counsels you on the best ways to maintain and improve your health. Our physician(s) meet all these criteria. Plus, you benefit from a dedicated team of trained professionals who give you the individualized attention you deserve.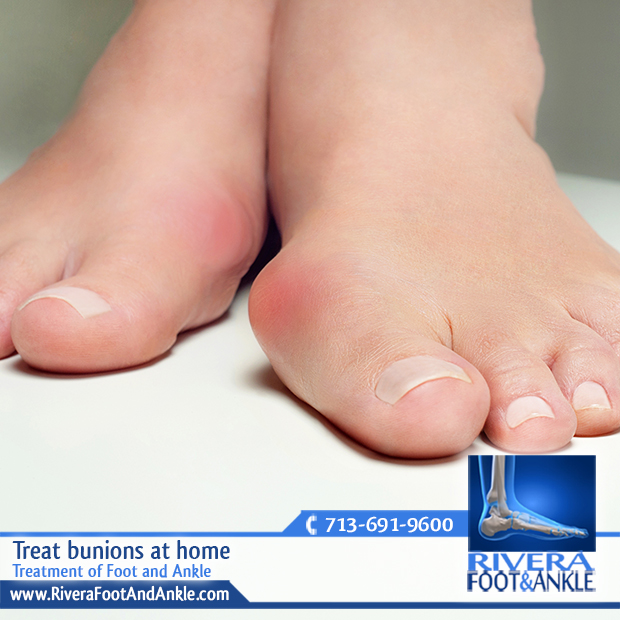 Treatment of Foot and Ankle.
Foot and Ankle, Dr. Orlando Rivera, Advanced Foot & Ankle Specialist, Foot and Ankle Podiatry, Houston Foot & Ankle Surgical, Treatment of Foot and Ankle, Foot & ankle specialists, Podiatrist in houston, podiatrist in houston, Orlando H.Rivera DPM, Houston Foot Doctor, Foot and Ankle Surgeon Houston, Ankle and Foot Specialist Houston, Podiatrist Houston, Foot Pain Houston.