How to Make Your Feet Smell Good
Treatment of Foot and Ankle
1. - Soak your feet in water and baking soda. - Sodium bicarbonate, commonly known as baking soda, is an effective remedy to remove bad odor from the feet because it neutralizes the pH of your sweat and reduces the amount of bacteria in your feet.
2. - Use black tea to get rid of smelly feet. - The acid in the tea kills the bacteria and closes the pores in your feet, which keeps them dry and free of bacteria.
3. - Try a vinegar soak. - The vinegar does a good job of ending the bad smell and creates an acidic environment that discourages the development of stinking bacteria.
4. - Use Epsom salts to reduce the sweat on your feet. - Epsom salts minimize the bad smell in your feet because they fight microbial infection and neutralize most of the bad odors. As an added bonus, they are also great for relieving pain or sore feet.
5. Apply lavender oil to your feet. - Lavender oil will not only make your feet smell good, it will also kill the bacteria in them and prevent them from smelling bad.
6. - Try a soak of sage and rosemary. - Sage is a kind of wonderful herb because it has antibacterial, antiviral and fungicidal properties and is also an astringent. Rosemary is also an astringent that has antibacterial and fungicidal properties, which means that both herbs help to minimize the sweat production of your sweat glands.
Source: WikiHow
RIVERA FOOT & ANKLE: At Orlando H.Rivera DPM, our priority is to deliver quality care to informed patients in a comfortable and convenient setting. When you have problems with your feet, you need to turn to a podiatrist who listens and responds… an experienced doctor who knows the field and can effectively diagnose and treat your needs… a friendly physician who counsels you on the best ways to maintain and improve your health. Our physician(s) meet all these criteria. Plus, you benefit from a dedicated team of trained professionals who give you the individualized attention you deserve.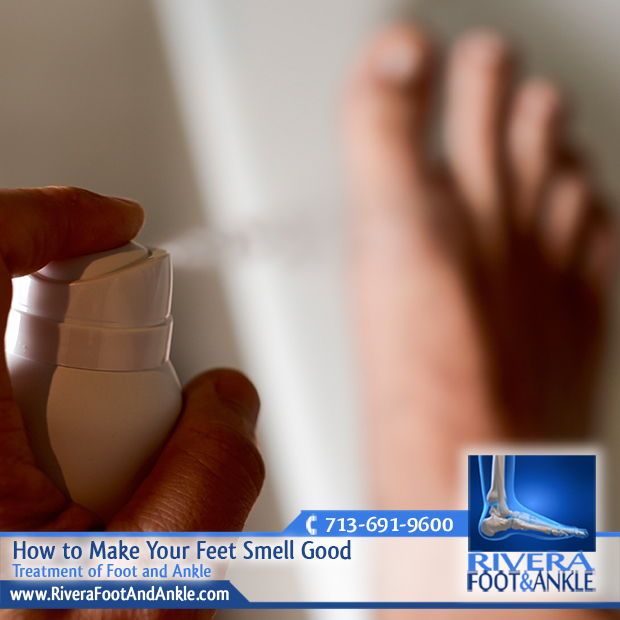 Treatment of Foot and Ankle.
Foot and Ankle, Dr. Orlando Rivera, Advanced Foot & Ankle Specialist, Foot and Ankle Podiatry, Houston Foot & Ankle Surgical, Treatment of Foot and Ankle, Foot & ankle specialists, Podiatrist in houston, podiatrist in houston, Orlando H.Rivera DPM, Houston Foot Doctor, Foot and Ankle Surgeon Houston, Ankle and Foot Specialist Houston, Podiatrist Houston, Foot Pain Houston.