Treatment of Foot and Ankle
1. - Choose the appropriate shoes. - One of the best things you can do for your feet is to buy and wear the proper shoes. Keep the following in mind to make sure you buy the right ones:
Make them measure BOTH feet. You probably have one foot bigger than the other, so you'll have to find shoes that look good on the one you have bigger.
Buy your shoes in the afternoon, as that is when your feet are more swollen. Therefore, if you try on your shoes in the later hours of the afternoon, you will be assured that they will not fit you during the day, as your feet swell.
Do not trust the size specified by the manufacturer. Base your choice on how comfortable your shoes are.
2. - Keep your feet dry. - Try to wear only soft cotton socks with your shoes, especially when you exercise. After performing a physical activity during which your feet have sweated excessively, let your shoes dry completely. Do not wear the same socks for two days in a row and discard them whenever they get wet or sweaty. Wash your feet every day, including between the toes, to avoid problems such as athlete's foot. Dry your feet well before putting on your socks.
3. - Wet your feet every day. - The best way to prevent your feet from drying out and cracking is to have the consistency of applying a humectant for good quality feet every day. Moisturizing your feet is especially important in the winter months when the air is dry and cold. Do not try to walk barefoot on a tile or wood floor after applying the humectant. You will probably find that moisturizing your feet before bed is the simplest and safest habit you could get.
4. - Strive to avoid and take off calluses. - It is interesting to note that most problems in the feet are not caused by walking, but by the footwear. Calluses are formed when the fingers rub against the inside of the shoe, usually because the shoes or socks are not of the correct size. High heels also cause calluses because their shape exerts extra pressure on the toes and the front of the foot, which in turn causes the fingers to compress into the tip of the shoe. You can prevent and treat calluses at home, but if the problem is serious you will have to see a doctor.
5. - Raise your feet. - In fact, doctors recommend it, so get your feet up whenever you can. That said, if you sit for a long time, take a few moments to get up and walk a little. If you have a habit of crossing your legs when you sit down, change the leg that you cross frequently. All of these tips are a great way to improve circulation in your feet and legs.
Source: WikiHow
RIVERA FOOT & ANKLE: At Orlando H.Rivera DPM, our priority is to deliver quality care to informed patients in a comfortable and convenient setting. When you have problems with your feet, you need to turn to a podiatrist who listens and responds… an experienced doctor who knows the field and can effectively diagnose and treat your needs… a friendly physician who counsels you on the best ways to maintain and improve your health. Our physician(s) meet all these criteria. Plus, you benefit from a dedicated team of trained professionals who give you the individualized attention you deserve.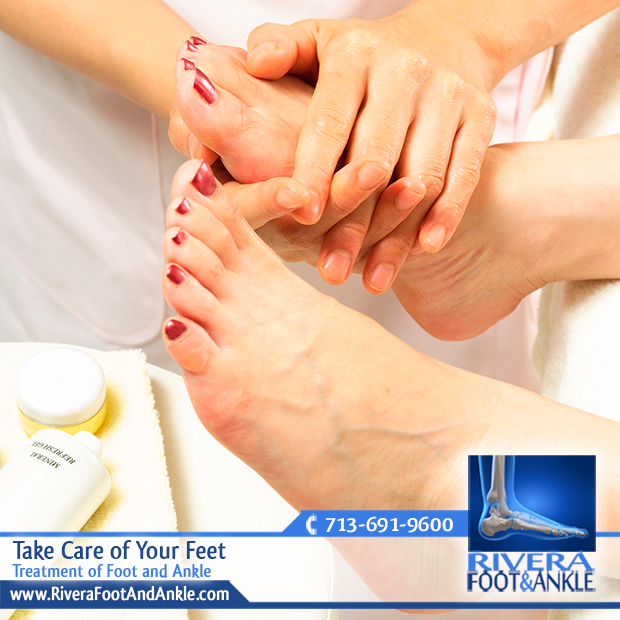 Treatment of Foot and Ankle.
Foot and Ankle, Dr. Orlando Rivera, Advanced Foot & Ankle Specialist, Foot and Ankle Podiatry, Houston Foot & Ankle Surgical, Treatment of Foot and Ankle, Foot & ankle specialists, Podiatrist in houston, podiatrist in houston, Orlando H.Rivera DPM, Houston Foot Doctor, Foot and Ankle Surgeon Houston, Ankle and Foot Specialist Houston, Podiatrist Houston, Foot Pain Houston.