Foot and Ankle
1. - Soak your feet. - First you will have to get or buy a container large enough and deep enough to accommodate and submerge your feet totally. Add a few drops of mild soap to the bowl and fill it with warm water halfway. You can also add a few drops of your favorite essential oil in order to enjoy an aromatherapy while you relax. Sit in a comfortable chair and soak your feet in the water for 10 minutes.
2. - Removes dead skin and calluses. - Use a pumice stone or a lime in order to remove dead skin and calluses from the soles of your feet. You may have to bend your legs back to reach the entire area of ​​your heels. Do not forget to check your fingers for calluses and dead skin.
3. - Take care of your cuticles and your nails. - Use an orange stick to push the cuticles of each of your toes. Then use a large or special nail clipper to cut your nails. If you decide to leave them a little longer, make sure they do not exceed the edge of the finger. Also, cut your nails straight, along the entire width of the nails, not in a way that the edges curl in or down. Keep in mind that badly cut nails can become embody and this problem is very painful.Limate the edges of the nails with a cardboard file or emery after having cut them.
4. - Moisturize your feet and ankles. - Get a massage on each foot, including the fingers and nails, with a good quality moisturizer. Consider using a foot roller or foot massager before or after applying the humectant in order to massage your feet even better. Feel free to use a generous amount of moisturizer at this step, but be careful when walking if your feet they did not absorb all the cream.
5. - Paint your nails. - If you want to paint your toenails, start by using a small amount of nail polish remover, in order to remove any excess moisturizer that may have been left on them. Then apply a transparent base on each nail and let it dry before applying the next layer. Apply 1 or 2 layers of colored enamel allowing the first to dry before moving to the second. Finally, use a clear enamel coating to give the final finish to each nail.
Source: WikiHow
RIVERA FOOT & ANKLE: At Orlando H.Rivera DPM, our priority is to deliver quality care to informed patients in a comfortable and convenient setting. When you have problems with your feet, you need to turn to a podiatrist who listens and responds… an experienced doctor who knows the field and can effectively diagnose and treat your needs… a friendly physician who counsels you on the best ways to maintain and improve your health. Our physician(s) meet all these criteria. Plus, you benefit from a dedicated team of trained professionals who give you the individualized attention you deserve.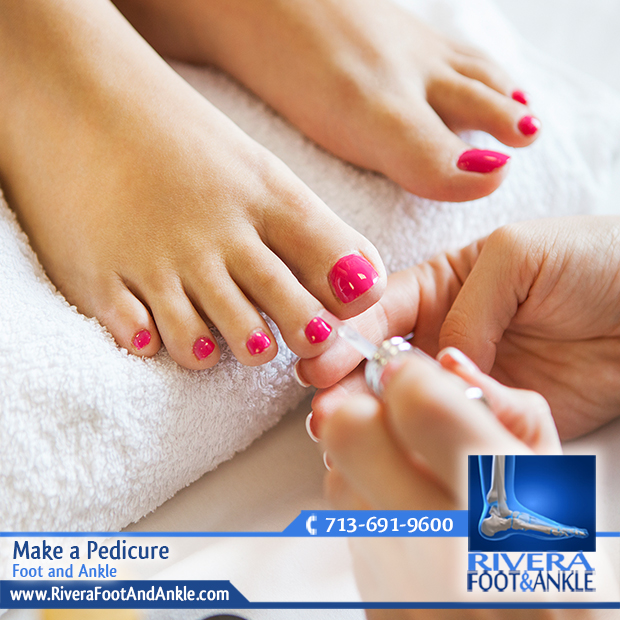 Foot and Ankle.
Foot and Ankle, Dr. Orlando Rivera, Advanced Foot & Ankle Specialist, Foot and Ankle Podiatry, Houston Foot & Ankle Surgical, Treatment of Foot and Ankle, Foot & ankle specialists, Podiatrist in houston, podiatrist in houston, Orlando H.Rivera DPM, Houston Foot Doctor, Foot and Ankle Surgeon Houston, Ankle and Foot Specialist Houston, Podiatrist Houston, Foot Pain Houston.