Take Care of Your Feet at Home
Foot and Ankle
1. - Soak your feet in lemon juice. - Keep in mind that soaking your feet in lemon juice for about 10 minutes is a great way to remove excess dead skin that has accumulated in them, since the acid in it will help you make it easier to remove. Once you have soaked them in lemon juice for 10 minutes, use a pumice stone or a lime to remove dead and dry skin from your feet.
2. - Make your own cream for cracked heels. - In a small jar with lid, put a spoonful of olive oil. Add a few drops of lemon or lavender oil. Close the bottle cap tightly and shake until the liquid inside is thick and milky. Apply oil on your feet, especially over the heel area, to promote moisturizing of the skin. You can save the rest for later use, just remember to shake the bottle before each application.
3. - Accept your feet before bed. - Start by taking a shower or bath or just wash your feet. Dry well with a towel, including areas between the toes. Apply a layer of vegetable oil on your feet and then put on a pair of thick socks. Sleep with your socks on. You will most likely find that the parched skin on your feet is much better in just a few days.
4. - Prepare your own night mask for the feet. - Put a spoonful of Vaseline, or a similar product, and the juice of 1 lemon in a bowl and mix well. Take a bath, shower or wash only your feet. Dry them well with a towel, apply ALL the mixture on the feet and put on a pair of thick wool socks. Lie down to sleep. The next morning, remove your socks and rub your feet to remove excess dead skin.
5. - Test with paraffin wax to moisturize your feet. - First, melt the wax in a large bowl, either in the microwave or in a water bath. When the paraffin has melted, add an equal amount of mustard oil. Dip one foot into the bowl and cover with the mixture. Remove your foot and let the wax cool down. Dip the same foot again. Remove it and wrap it in plastic wrap or put it inside a plastic bag. Repeat the same procedure with the other foot. Remain seated for about 15 minutes and then remove the plastic and wax.
Source: WikiHow
RIVERA FOOT & ANKLE: At Orlando H.Rivera DPM, our priority is to deliver quality care to informed patients in a comfortable and convenient setting. When you have problems with your feet, you need to turn to a podiatrist who listens and responds… an experienced doctor who knows the field and can effectively diagnose and treat your needs… a friendly physician who counsels you on the best ways to maintain and improve your health. Our physician(s) meet all these criteria. Plus, you benefit from a dedicated team of trained professionals who give you the individualized attention you deserve.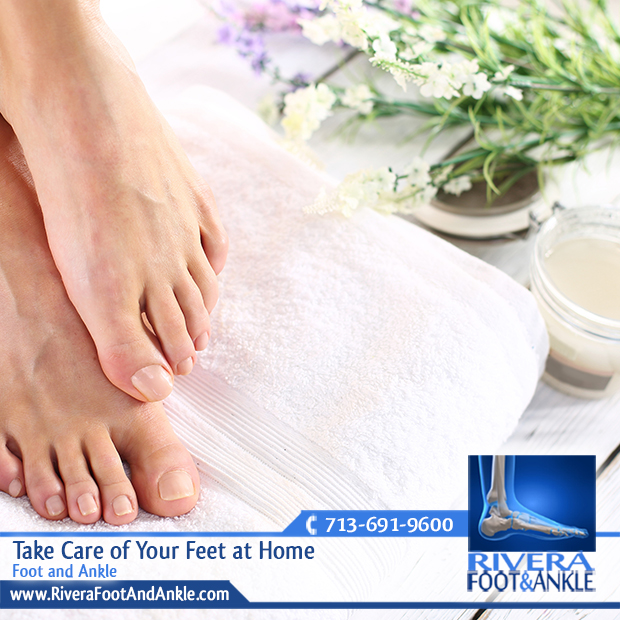 Foot and Ankle.
Foot and Ankle, Dr. Orlando Rivera, Advanced Foot & Ankle Specialist, Foot and Ankle Podiatry, Houston Foot & Ankle Surgical, Treatment of Foot and Ankle, Foot & ankle specialists, Podiatrist in houston, podiatrist in houston, Orlando H.Rivera DPM, Houston Foot Doctor, Foot and Ankle Surgeon Houston, Ankle and Foot Specialist Houston, Podiatrist Houston, Foot Pain Houston.