How to Remove Infection from a Buried Nail - Avoid Common Mistakes
Advanced Foot & Ankle Specialist
1. - Do not cut your nail. - A common mistake when having an infected buried fingernail is that you have to cut it. Despite what is believed, cutting your nail can actually worsen the infection.
It can also make more nails buried in the future. Leave your nail uncut and lift it to release the pressure.
It may be necessary for the doctor to cut your nail, but you should not do it at home by "surgery in the bathroom".
2. - Do not excaves under the nail. - You may feel the need to release the pressure or lift the nail digging under the skin. Do not do it because you can intensify the infection and make the situation worse.
Avoid using tweezers, orange sticks, scissors, files or any other metal tool.
3. - Do not try to drain an infection. - There is a popular belief that you have to use a needle to puncture a blister or pustule caused by an infection, but you should not do so, since this will only make it worse. Regardless of whether you use clean tools and a sterile needle, you can cause serious injury by puncturing an infected blister or blister.
Avoid touching it with anything other than a swab or bandage material.
4. - Do not make a "V" cut on the nail. - According to some ancient healing methods, you should cut into a "V" shape on top of the infected nail to release pressure and cure the nail. However, this does absolutely nothing more than create a jagged edge on your nail.
5. - Avoid covering your nail. - Do not believe in urban myths like rubbing charcoal on the nail to cure an infection. Although some people believe in this method, coal will not at all improve the infection or the nail buried; in fact, it will only make the situation worse. In general, you should not put anything on the finger or the infected area, except antibiotic creams or bandages.
Source: WikiHow
RIVERA FOOT & ANKLE: At Orlando H.Rivera DPM, our priority is to deliver quality care to informed patients in a comfortable and convenient setting. When you have problems with your feet, you need to turn to a podiatrist who listens and responds… an experienced doctor who knows the field and can effectively diagnose and treat your needs… a friendly physician who counsels you on the best ways to maintain and improve your health. Our physician(s) meet all these criteria. Plus, you benefit from a dedicated team of trained professionals who give you the individualized attention you deserve.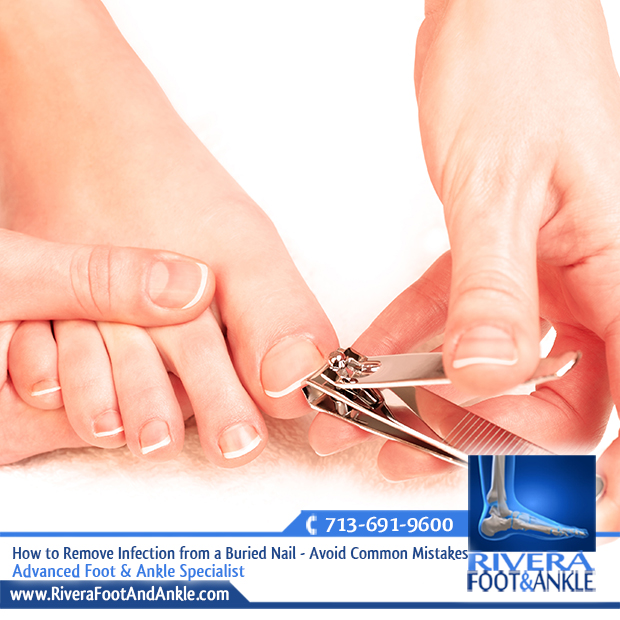 Advanced Foot & Ankle Specialist.
Foot and Ankle, Dr. Orlando Rivera, Advanced Foot & Ankle Specialist, Foot and Ankle Podiatry, Houston Foot & Ankle Surgical, Treatment of Foot and Ankle, Foot & ankle specialists, Podiatrist in houston, podiatrist in houston, Orlando H.Rivera DPM, Houston Foot Doctor, Foot and Ankle Surgeon Houston, Ankle and Foot Specialist Houston, Podiatrist Houston, Foot Pain Houston.