Secrets to recovering faster from a sprain
Foot and Ankle
Keys to recover faster
Apply cold: Applying ice can help reduce inflammation and pain. The cold should be applied with a protective layer as it could be clothes, otherwise the skin could suffer the side effects of this action.
It is advisable to have the leg straight up twice a day for 20 minutes, long enough for the cold to penetrate the inner layers.
Rest: Although this point is the most difficult to carry out for the most active people, you must understand that this is the fundamental part; is the main part for a fast recovery; Fatiguing the area does not help improve the injury. The more rest there is, the faster recovery will be.
Serious anti-inflammatory drugs: Taking anti-inflammatories for the first three days may help reduce inflammation. It is estimated that all inflammatory processes have their greatest boom in the first three days after the accident. In addition they will help to reduce the sensation of pain in those cases in which it is a severe sprain that causes much pain.
Gel: The use of ointments or anti-inflammatory gel that acts directly through the skin to try to decrease the swelling of the affected area, is always recommended.
Exercises: Once you begin to regain normalcy gradually, it is recommended to do your own exercises to recover the strength of the affected area so that it is in the same state as before the accident, and not weaker due to the rest time. It is the best way to avoid relapses.
Source: Clarin Buena Vida
RIVERA FOOT & ANKLE: At Orlando H.Rivera DPM, our priority is to deliver quality care to informed patients in a comfortable and convenient setting. When you have problems with your feet, you need to turn to a podiatrist who listens and responds… an experienced doctor who knows the field and can effectively diagnose and treat your needs… a friendly physician who counsels you on the best ways to maintain and improve your health. Our physician(s) meet all these criteria. Plus, you benefit from a dedicated team of trained professionals who give you the individualized attention you deserve.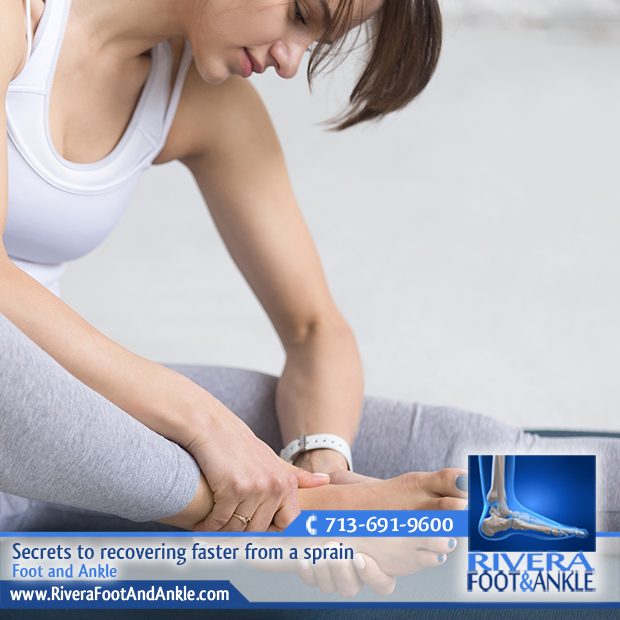 Foot and Ankle.
Foot and Ankle, Dr. Orlando Rivera, Advanced Foot & Ankle Specialist, Foot and Ankle Podiatry, Houston Foot & Ankle Surgical, Treatment of Foot and Ankle, Foot & ankle specialists, Podiatrist in houston, podiatrist in houston, Orlando H.Rivera DPM, Houston Foot Doctor, Foot and Ankle Surgeon Houston, Ankle and Foot Specialist Houston, Podiatrist Houston, Foot Pain Houston.