How is ankle sprain treated?
Treatment of Foot and Ankle
Treatment procedures should be initiated in the acute phase (1-3 days of injury) itself to minimize swelling and allow mobility of the ankle joint.
General measures used to treat ankle sprain are collectively known as prices (protection, relative rest, ice, compression and lifting, and support). It includes the following steps:
Ankle protection is provided by the use of air splints or orthopedic plastic and velcro braces and can be used for 4-21 days. These braces may be discontinued when swelling and pain at the site of injury have decreased.
Relative rest is defended in the first phase, but, at the beginning, movements and exercises without pain can be performed.
Ice: Application of ice for 15-20 minutes three times a day can be used to control swelling, pain and muscle spasm.
Compression: Swelling can be minimized by using compression with a wrap, an ankle cuff, or by using ankle support.
Elevation: Swelling can also be reduced by elevating the ankle injury while lying down or sitting.
Attendance: Vending or wearing ankle supports with laces can provide ankle support
Rehabilitation therapy should be started as soon as possible to accelerate healing and increase the range of motion of the ankle joint. Medications as analgesics and anti-inflammatory agents can be used to control pain and swelling.
Source: El Blog de la Salud
RIVERA FOOT & ANKLE: At Orlando H.Rivera DPM, our priority is to deliver quality care to informed patients in a comfortable and convenient setting. When you have problems with your feet, you need to turn to a podiatrist who listens and responds… an experienced doctor who knows the field and can effectively diagnose and treat your needs… a friendly physician who counsels you on the best ways to maintain and improve your health. Our physician(s) meet all these criteria. Plus, you benefit from a dedicated team of trained professionals who give you the individualized attention you deserve.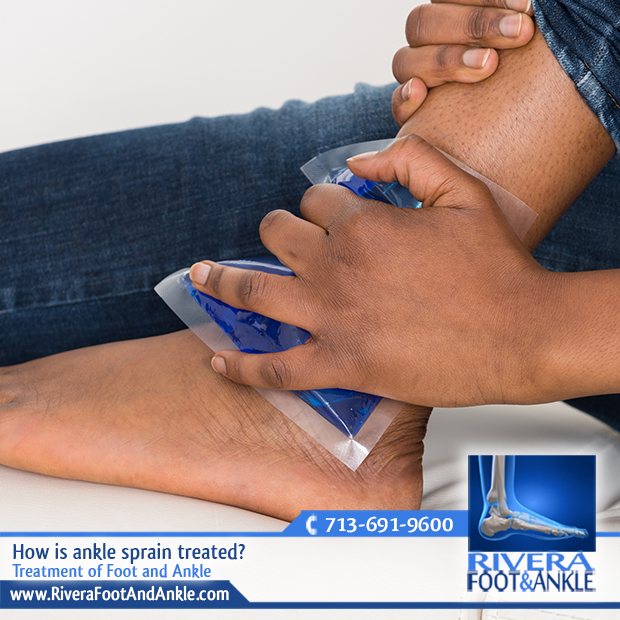 Treatment of Foot and Ankle.
Foot and Ankle, Dr. Orlando Rivera, Advanced Foot & Ankle Specialist, Foot and Ankle Podiatry, Houston Foot & Ankle Surgical, Treatment of Foot and Ankle, Foot & ankle specialists, Podiatrist in houston, podiatrist in houston, Orlando H.Rivera DPM, Houston Foot Doctor, Foot and Ankle Surgeon Houston, Ankle and Foot Specialist Houston, Podiatrist Houston, Foot Pain Houston.