Rehabilitating your Sprained Ankle
Treatment of Foot and Ankle
Every ligament injury needs rehabilitation. Otherwise, your sprained ankle might not heal completely and you might re-injure it. All ankle sprains, from mild to severe, require three phases of recovery:
Phase I includes resting, protecting and reducing swelling of your injured ankle.
Phase II includes restoring your ankle's flexibility, range of motion and strength.
Phase III includes gradually returning to straight-ahead activity and doing maintenance exercises, followed later by more cutting sports such as tennis, basketball or football.
Once you can stand on your ankle again, your doctor will prescribe exercise routines to strengthen your muscles and ligaments and increase your flexibility, balance and coordination. Later, you may walk, jog and run figure eights with your ankle taped or in a supportive ankle brace.
It's important to complete the rehabilitation program because it makes it less likely that you'll hurt the same ankle again. If you don't complete rehabilitation, you could suffer chronic pain, instability and arthritis in your ankle. If your ankle still hurts, it could mean that the sprained ligament has not healed right, or that some other injury also happened.
To prevent future sprained ankles, pay attention to your body's warning signs to slow down when you feel pain or fatigue, and stay in shape with good muscle balance, flexibility and strength in your soft tissues.
Source: FootCareMD
RIVERA FOOT & ANKLE: At Orlando H.Rivera DPM, our priority is to deliver quality care to informed patients in a comfortable and convenient setting. When you have problems with your feet, you need to turn to a podiatrist who listens and responds… an experienced doctor who knows the field and can effectively diagnose and treat your needs… a friendly physician who counsels you on the best ways to maintain and improve your health. Our physician(s) meet all these criteria. Plus, you benefit from a dedicated team of trained professionals who give you the individualized attention you deserve.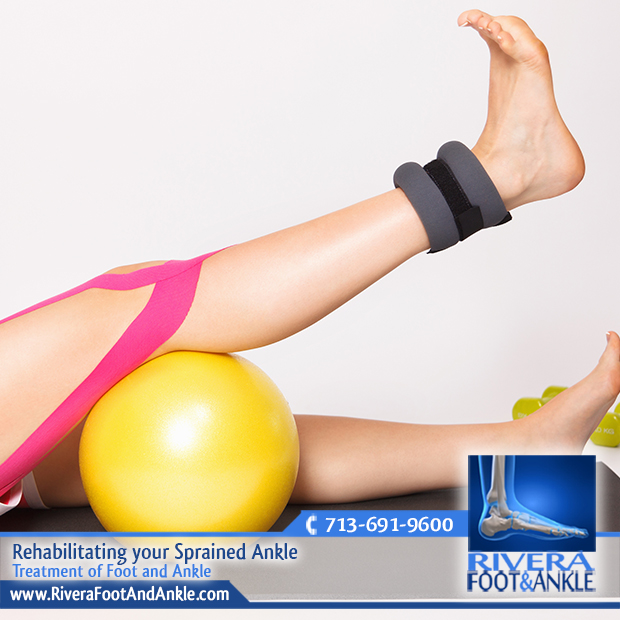 Treatment of Foot and Ankle.
Foot and Ankle, Dr. Orlando Rivera, Advanced Foot & Ankle Specialist, Foot and Ankle Podiatry, Houston Foot & Ankle Surgical, Treatment of Foot and Ankle, Foot & ankle specialists, Podiatrist in houston, podiatrist in houston, Orlando H.Rivera DPM, Houston Foot Doctor, Foot and Ankle Surgeon Houston, Ankle and Foot Specialist Houston, Podiatrist Houston, Foot Pain Houston.