How to Get Rid of Foot Odor- Freshening Your Footwear
Foot and Ankle
1. - Wear sandals or open-toed shoes. - Wearing open shoes lets the air flow around your feet, keeping them cool and keeping you from producing as much sweat. When you do sweat, it will evaporate quickly due to air circulation.
During colder months, wear leather or canvas shoes that allow your feet to "breathe." Steer clear of rubber and plastic shoes.
2. - Change your socks daily. - Socks absorb your sweat when you wear them, and it dries when you take them off. Putting on a dirty pair of socks for the second day in a row is essentially going to reheat that sweat, leading to a foul smell. Change your socks every day, especially if your feet tend to get sweaty.
3. - Lightly powder shoes and socks daily with baking soda. - Dust out yesterday's baking soda before adding the fresh amount. Baking soda absorbs moisture and odors.
4. - Use cedar wood or cloves to freshen shoes. - Put cedar wood shavings or whole cloves inside your shoes for a few days when you don't need to wear them. The odor will disappear after a few days.
5. - Use cedar wood insoles. - In addition to cedar wood shavings you can also use cedar wood insoles. The natural cedar wood essential oils have antibacterial and antifungal properties, which fight bacteria and help to cure and prevent foot odor, athlete's foot, and nail fungus. It is also a convenient way without the need for daily routines like powdering or creaming.
6. - Rotate your shoes. - Let your shoes dry out completely so that bacteria don't set up camp in there. It takes at least 24 hours for a shoe to dry out completely.
Take out the insoles to help the drying process along. Otherwise, wearing the same pair day after day is a recipe for stinky feet. Crumple newspaper inside wet shoes so it will dry them overnight.
7. - Wash your shoes regularly. - Many shoes can be thrown in the washing machine. Just make sure they dry thoroughly before you put them on.
8. - Remove your shoes often. - Whenever you can take a break, and no one is looking, remove your shoes. This helps the shoes and your feet stay drier.
9. - Use a shoe dryer. - There are several great, low-wattage shoe and boot dryers that use convection air currents to slowly and completely dry wet, sweaty shoes. Place your footwear on them at the end of the day or workout and put on dry, warm and comfortable shoes about eight hours later. Dryers eliminate the moisture that odor-causing bacteria need to grow and help your shoes to last longer.
Source: WikiHow
RIVERA FOOT & ANKLE: At Orlando H.Rivera DPM, our priority is to deliver quality care to informed patients in a comfortable and convenient setting. When you have problems with your feet, you need to turn to a podiatrist who listens and responds… an experienced doctor who knows the field and can effectively diagnose and treat your needs… a friendly physician who counsels you on the best ways to maintain and improve your health. Our physician(s) meet all these criteria. Plus, you benefit from a dedicated team of trained professionals who give you the individualized attention you deserve.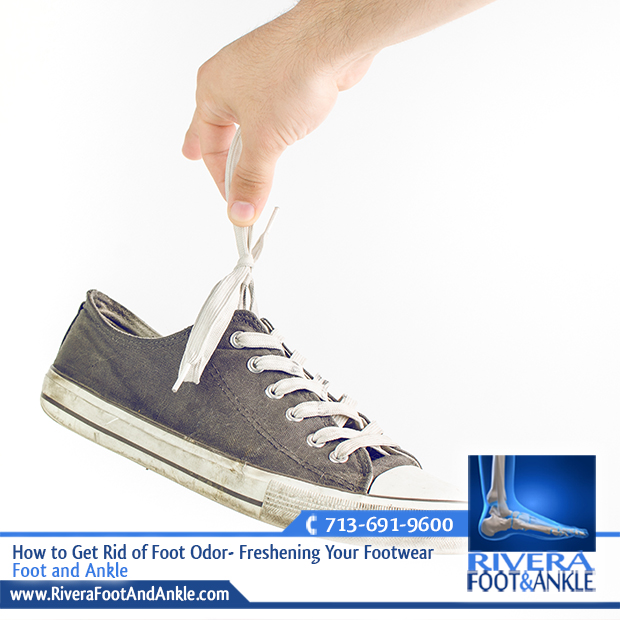 Foot and Ankle.
Foot and Ankle, Dr. Orlando Rivera, Advanced Foot & Ankle Specialist, Foot and Ankle Podiatry, Houston Foot & Ankle Surgical, Treatment of Foot and Ankle, Foot & ankle specialists, Podiatrist in houston, podiatrist in houston, Orlando H.Rivera DPM, Houston Foot Doctor, Foot and Ankle Surgeon Houston, Ankle and Foot Specialist Houston, Podiatrist Houston, Foot Pain Houston.