Ankle Sprain - Treatment Overview
Advanced Foot & Ankle Specialist
Sprained Ankle: Using a Compression Wrap
Elevation. Raise your ankle above the level of your heart for 2 to 3 hours a day if possible to decrease swelling and bruising.
If you are not taking any prescription pain relievers, you may want to take an over-the-counter pain reliever such as ibuprofen or naproxen to reduce pain and swelling.
Be safe with medicines. Read and follow all instructions on the label.
It may help to wear hiking boots or other high-top, lace-up shoes for support. But use caution. Don't force your foot into a boot if you feel a lot of pain or discomfort.
Your doctor may suggest that you keep some or all of your weight off your ankle as it heals. If this happens, learn to use your crutches or walker properly and safely.
Using Crutches
Using a Walker
Almost all ankle sprains heal on their own with proper home treatment and rehabilitation (rehab) exercises.
Surgery to repair torn ligaments is usually only considered when there is a severe ligament tear (or tears) or if the ankle remains unstable after rehab. Surgery is also a consideration if you have broken a bone.
Source: WebMD
RIVERA FOOT & ANKLE: At Orlando H.Rivera DPM, our priority is to deliver quality care to informed patients in a comfortable and convenient setting. When you have problems with your feet, you need to turn to a podiatrist who listens and responds… an experienced doctor who knows the field and can effectively diagnose and treat your needs… a friendly physician who counsels you on the best ways to maintain and improve your health. Our physician(s) meet all these criteria. Plus, you benefit from a dedicated team of trained professionals who give you the individualized attention you deserve.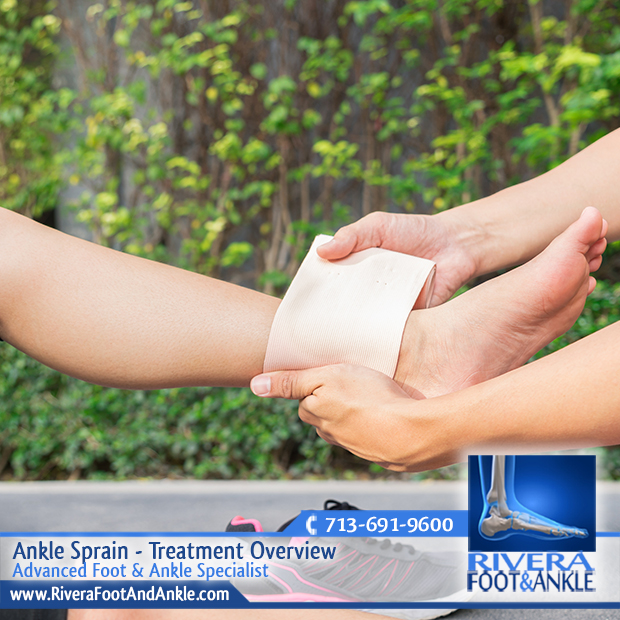 Advanced Foot & Ankle Specialist.
Foot and Ankle, Dr. Orlando Rivera, Advanced Foot & Ankle Specialist, Foot and Ankle Podiatry, Houston Foot & Ankle Surgical, Treatment of Foot and Ankle, Foot & ankle specialists, Podiatrist in houston, podiatrist in houston, Orlando H.Rivera DPM, Houston Foot Doctor, Foot and Ankle Surgeon Houston, Ankle and Foot Specialist Houston, Podiatrist Houston, Foot Pain Houston.