What to Look for When Selecting the Best Shoes for Your Flat Feet
Foot and Ankle
When you first set out on your journey to select the perfect pair of shoes for your flat feet, there are three tests you can do while purchasing to make sure you're getting the correct support you need.
If the shoe bends where the toes are, it's supportive enough, but if it bends toward the middle, it is not going to have the support you need. Your middles need support, not this bendy sole. Try another pair.
How well are you able to twist and torque it? Pick a shoe that is difficult to move. These are the shoes that will give you the most support for your arches.
Is the heel stiff? Proper heel support often found in the best shoes for flat feet just puts the whole package together. You won't want to roll an ankle right after you get your arch support would you?
It all comes down to the basic premise a stiffer shoe will be more supportive for your feet and will help prevent over pronation.
You may be saying, 'why would I want a stiff shoe? Isn't it going to be really uncomfortable?' Shoes today are made with a lot of padding and comfortable material so that your feet won't actually feel like they are a prisoner in a plastic box. It is a common misconception that extra support means lack of comfort and for a flat footer, it will actually make you even more comfortable once you get the arch support your feet crave.
Source: Feet Genius
RIVERA FOOT & ANKLE: At Orlando H.Rivera DPM, our priority is to deliver quality care to informed patients in a comfortable and convenient setting. When you have problems with your feet, you need to turn to a podiatrist who listens and responds… an experienced doctor who knows the field and can effectively diagnose and treat your needs… a friendly physician who counsels you on the best ways to maintain and improve your health. Our physician(s) meet all these criteria. Plus, you benefit from a dedicated team of trained professionals who give you the individualized attention you deserve.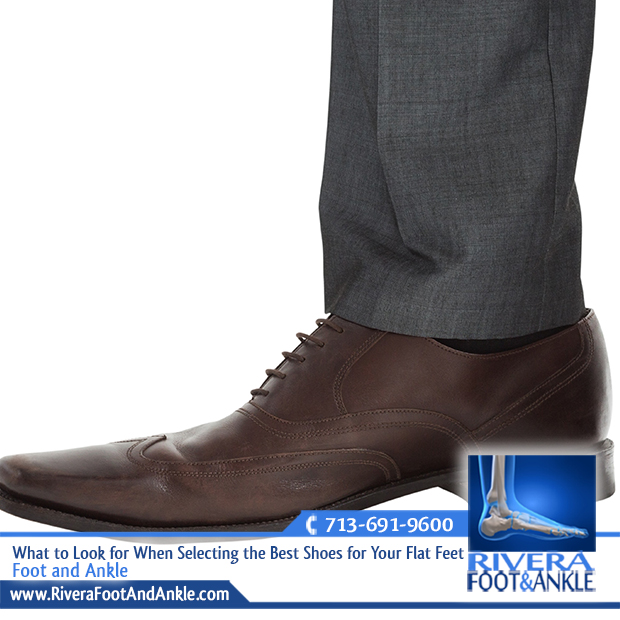 Foot and Ankle.
Foot and Ankle, Dr. Orlando Rivera, Advanced Foot & Ankle Specialist, Foot and Ankle Podiatry, Houston Foot & Ankle Surgical, Treatment of Foot and Ankle, Foot & ankle specialists, Podiatrist in houston, podiatrist in houston, Orlando H.Rivera DPM, Houston Foot Doctor, Foot and Ankle Surgeon Houston, Ankle and Foot Specialist Houston, Podiatrist Houston, Foot Pain Houston.