7 Essential Tips For Buying Shoes For Flat Feet
Foot and Ankle
The perfect shoes will provide the essential support, stability and comfort that will alleviate the pain and other negative symptoms associated with flat feet.
Here are some essential tips to consider when purchasing shoes for flat feet:
1. - Shop late in the day. - It is advisable to go shopping for the perfect pair of shoes later in the day for research studies suggest that your feet swell up during the day. This will cause hindrance in figuring out the exact shape and size of your feet.
2. - Wear your shoes at home before going to jog. - This is to ensure that your shoes fit you like a glove. Also it is advisable to go for a short run before heading off for a long run to see how your feet respond to the strenuous exercise and stretching. If you notice redness or blisters, then the shoes are not right for your foot anatomy.
3. - Leave space equivalent to one thumb space between shoe and big toe. - This makes sure that your feet have enough room to be flexible during running and jogging. This also helps to relieve pressure that is a common problem in tight shoes.
4. - Make sure you buy shoe size according to your larger foot. - Researches highlight that most people have different foot sizes. It is wise to go for size that fits your larger foot for this will serve to be more comfortable.
5. - Wear socks and try on shoes you are planning to buy. - This will also help you in buying shoes that fit you perfectly even when you are wearing socks.
6. - Measure your shoe size while standing. - This will give you accurate measurement of your shoe size.
7. - Have two types of running shoes. - By wearing different running shoes on alternating days you will give your feet a break.
As a matter of fact, most of us tend to neglect the comfort of our feet by compromising on any shoe wear that looks pretty, gorgeous or perhaps with a good bargain price in this modern society. Still, taking care and protecting the feet is important to alleviate any potential problems in the later part especially if you have flat feet. Therefore, the next time you want to buy shoes for flat feet, make sure that you keep in mind all the tips provided in this article.
Source: Join Tessential
RIVERA FOOT & ANKLE: At Orlando H.Rivera DPM, our priority is to deliver quality care to informed patients in a comfortable and convenient setting. When you have problems with your feet, you need to turn to a podiatrist who listens and responds… an experienced doctor who knows the field and can effectively diagnose and treat your needs… a friendly physician who counsels you on the best ways to maintain and improve your health. Our physician(s) meet all these criteria. Plus, you benefit from a dedicated team of trained professionals who give you the individualized attention you deserve.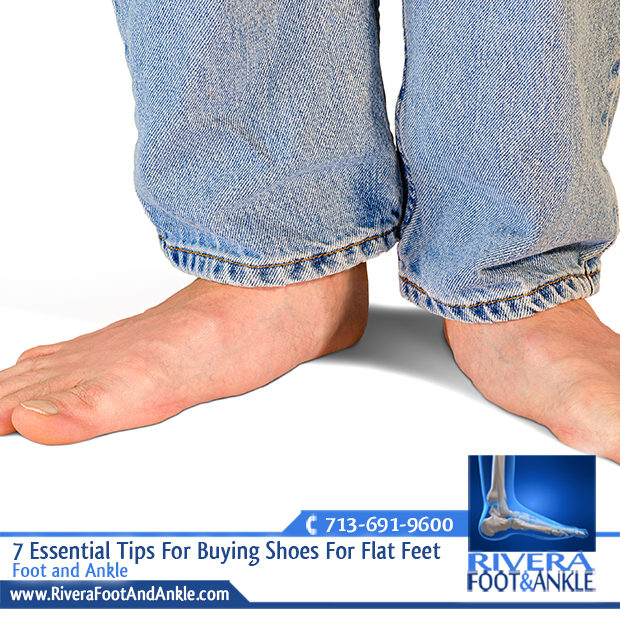 Foot and Ankle.
Foot and Ankle, Dr. Orlando Rivera, Advanced Foot & Ankle Specialist, Foot and Ankle Podiatry, Houston Foot & Ankle Surgical, Treatment of Foot and Ankle, Foot & ankle specialists, Podiatrist in houston, podiatrist in houston, Orlando H.Rivera DPM, Houston Foot Doctor, Foot and Ankle Surgeon Houston, Ankle and Foot Specialist Houston, Podiatrist Houston, Foot Pain Houston.