When to See a Health Care Provider for a Sprain
Advanced Foot & Ankle Specialist
You have severe pain and cannot put any weight on the injured joint.


The injured area looks crooked or has lumps and bumps (other than swelling) that you do not see on the uninjured joint.


You cannot move the injured joint.


You cannot walk more than four steps without significant pain.
Your limb buckles or gives way when you try to use the joint.


You have numbness in any part of the injured area.


You see redness or red streaks spreading out from the injury.


You injure an area that has been injured several times before.


You have pain, swelling, or redness over a bony part of your foot.


You are in doubt about the seriousness of the injury or how to care for it.


A grade II or moderate sprain is caused by further, but still incomplete, tearing of the ligament and is characterized by bruising, moderate pain, and swelling. A person with a moderate sprain usually has more difficulty putting weight on the affected joint and experiences some loss of function. An x ray may be needed to help the health care provider determine if a fracture is causing the pain and swelling. Magnetic resonance imaging is occasionally used to help differentiate between a significant partial injury and a complete tear in a ligament, or can be recommended to rule out other injuries.
People who sustain a grade III or severe sprain completely tear or rupture a ligament. Pain, swelling, and bruising are usually severe, and the patient is unable to put weight on the joint. An x ray is usually taken to rule out a broken bone. When diagnosing any sprain, the health care provider will ask the patient to explain how the injury happened. He or she will examine the affected area and check its stability and its ability to move and bear weight.
Source: GB HealthWatch
RIVERA FOOT & ANKLE: At Orlando H.Rivera DPM, our priority is to deliver quality care to informed patients in a comfortable and convenient setting. When you have problems with your feet, you need to turn to a podiatrist who listens and responds… an experienced doctor who knows the field and can effectively diagnose and treat your needs… a friendly physician who counsels you on the best ways to maintain and improve your health. Our physician(s) meet all these criteria. Plus, you benefit from a dedicated team of trained professionals who give you the individualized attention you deserve.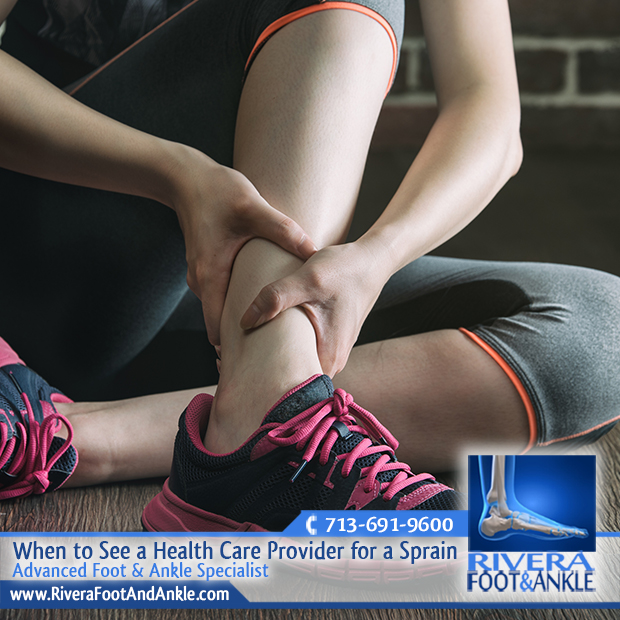 Advanced Foot & Ankle Specialist.
Foot and Ankle, Dr. Orlando Rivera, Advanced Foot & Ankle Specialist, Foot and Ankle Podiatry, Houston Foot & Ankle Surgical, Treatment of Foot and Ankle, Foot & ankle specialists, Podiatrist in houston, podiatrist in houston, Orlando H.Rivera DPM, Houston Foot Doctor, Foot and Ankle Surgeon Houston, Ankle and Foot Specialist Houston, Podiatrist Houston, Foot Pain Houston.