How to take care of your feet so they look nice and healthy
Foot and Ankle
1. - After standing too long or walking too much, the feet swell and ache, to reduce swelling, place your feet in a bowl of warm water with a handful of bath salts and a few drops of almond oil.
2. - It is very important that you dry your feet well, so that you avoid the appearance of fungi in them, since humidity is the main cause of this problem.
3. - Every day after taking a bath you must moisturize the feet applying abundant moisturizer and performing gentle massages.
4. - Like other parts of the body this area should be exfoliated 2 times a week to keep it beautiful and free of dead cells, you can use the same exfoliant that you use for the body.
5. - The toenails should always be kept short, avoiding that the sides of the nails will stick to the skin. Wash them with a brush when you sanitize your feet and use strengthening enamel when you pedicure.
6. - Wear cotton socks so your feet can breathe better and change them daily.
7. - If you have calluses place your feet in warm water, then dry them and rub them with a pumice stone. Do not forget to visit the podiatrist if you suffer from painful calluses.
8. - To avoid that your feet have a bad smell, put talented menthol in the shoes and in your feet, when you go to your home take off your shoes so that the feet breathe, it uses special antiperspirantes for the feet and opts for footwear with good ventilation.
Source: Un Como
RIVERA FOOT & ANKLE: At Orlando H.Rivera DPM, our priority is to deliver quality care to informed patients in a comfortable and convenient setting. When you have problems with your feet, you need to turn to a podiatrist who listens and responds… an experienced doctor who knows the field and can effectively diagnose and treat your needs… a friendly physician who counsels you on the best ways to maintain and improve your health. Our physician(s) meet all these criteria. Plus, you benefit from a dedicated team of trained professionals who give you the individualized attention you deserve.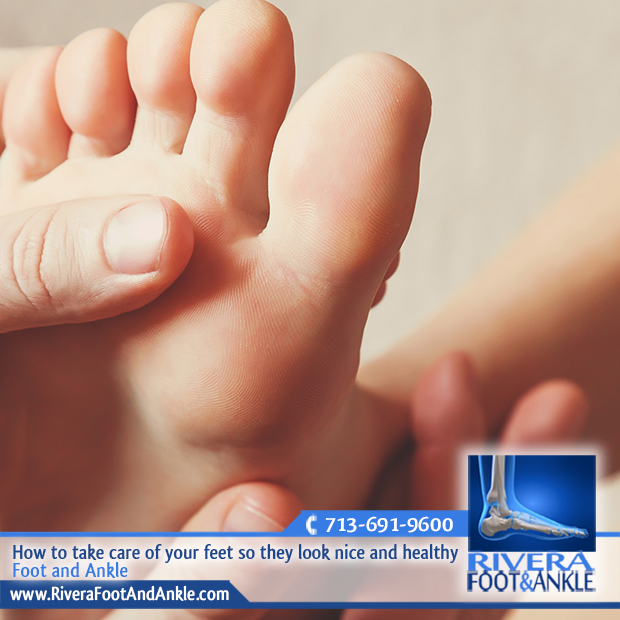 Foot and Ankle.
Foot and Ankle, Dr. Orlando Rivera, Advanced Foot & Ankle Specialist, Foot and Ankle Podiatry, Houston Foot & Ankle Surgical, Treatment of Foot and Ankle, Foot & ankle specialists, Podiatrist in houston, podiatrist in houston, Orlando H.Rivera DPM, Houston Foot Doctor, Foot and Ankle Surgeon Houston, Ankle and Foot Specialist Houston, Podiatrist Houston, Foot Pain Houston.