Top Foot Care Tips You Should Follow
Foot & ankle specialists

1. - Keep Your Feet Moisturized. - Your feet become creaked and dry because they experience wear and tear. Thus, applying moisturizer on your feet is very important. You need to apply it a few times every day and especially prior to going to sleep. Remember to rub the moisturizer all over the bottom and top of the feet, including the toes when applying it.
You also apply a little foot cream on the feet and slightly massage for about 10 minutes with circular motions before going to bed. After moisturizing, you wear socks to bed to retain the moisture longer if your heels crack during the winter season. You can also use natural products such as coconut oil, cocoa butter, or olive oil because these products help to keep dry skin moisturized. As using oil, gently warm it before use to help your skin absorb it fast.

2. - Wash Your Feet Frequently. - It is important to wash your feet regularly because they tend to get sweatier and dirtier than other regions of the body. It's advisable to wash your feet two times every day. You remove sweat, dirt, and bacteria present on your feet by using an antiseptic soap or milk soap and lukewarm water. Never use very hot water since it can strip away the natural oils of your skin. You also avoid using hard water for washing your feet, since it can make the skin prone to dryness and make the feet more likely to crack. Then, dry your feet thoroughly with a soft towel, especially between the toes after washing. For drying your feet, keep a separate towel because water between your toes can cause fungal infections like athlete's foot.

3. - Massage Regularly. - One of the easiest and simplest ways to keep the feet healthy as well as free from all types of foot problems is regular foot massages. Just several minutes of foot massage every day provides some benefits such as promoting sound sleep, helping you relax after a long and tiring day, improving blood circulation to the legs, eliminating pain and inflammation, making your ankles flexible and strong, and decreasing discomfort related to burning feet sensation. For this, you can use warm coconut or olive oil. While massaging, press into your feet's soles in a circular kneading pattern with the help of your thumbs. Plus, pull your toes back & forth one by one gently to stretch them out and soothe soreness and tightness as well. For your foot massages, a foot roller also works well.

4. - Exfoliate Twice Every Week. - It is also important to scrub your feet and heels frequently. It's essential to eliminate dead skin with exfoliation in order to keep the feet soft and smooth because the skin on the feet is thicker. Plus, regular exfoliation reduces the chance of developing calluses or corns. You can easily fade dead skin cells by using a pumice stone or foot scrubber. Use a mild filing motion while scrubbing and avoid rubbing the feet too hard using the pumice stone. Before scrubbing, remember to soak the feet in lukewarm water for around 10 minutes. Alternatively, you can make a food scrub at home. Firstly, mix salt or sugar with baby oil to form a thick paste. Later apply this paste all over the feet and massage for 5 minutes in circular motions. After that, take a gentle pumice stone scrub. Use cool water to rinse your feet off, pat dry, and follow up with applying one high-quality foot cream. Keep your feet smooth and soft by exfoliating your feet two times a week.

5. - Care for Sweaty Feet. - For many people, smelly and sweaty feet are an embarrassing trouble. Perspiration makes the great environment for bacteria to nurture and ultimately causes smelly feet. The sweat and dirt can even cause athlete's foot as well as other foot infections when they stay on the feet too long. Thus, to prevent foot odor, you should always wear cotton socks and replace them daily. Plus, to reduce odor, you need to keep your shoes clean. Try sprinkling talcum powder or baby powder in your shoes before putting them on to help to prevent sweaty odor. After you get home, take your shoes off to let your feet breathe. Avoid wearing socks that are made of synthetic fibers and excessively tight pantyhose because they trap moisture.

6. - Trim Toenails Properly. - To keep your toenails strong and healthy, you must trim them every couple of weeks. Make sure to use proper nail clippers and don't use scissors. Don't trim the nails too short because this can lead to discomfort while walking. Remember to trim the toenails straight across and later smooth the corners by using a nail file or emery board. Also, never trim the toenails down the edges or at an angle since this can cause ingrown toenails that can be quite painful and unsightly as well. In addition, remember to push the cuticles back and never cut the cuticles. Take some cuticle oil and apply it to your toenails, leave it on for 5 minutes, and push the cuticles back by using an orangewood stick.
Source: NaturalSolutions
RIVERA FOOT & ANKLE: At Orlando H.Rivera DPM, our priority is to deliver quality care to informed patients in a comfortable and convenient setting. When you have problems with your feet, you need to turn to a podiatrist who listens and responds… an experienced doctor who knows the field and can effectively diagnose and treat your needs… a friendly physician who counsels you on the best ways to maintain and improve your health. Our physician(s) meet all these criteria. Plus, you benefit from a dedicated team of trained professionals who give you the individualized attention you deserve.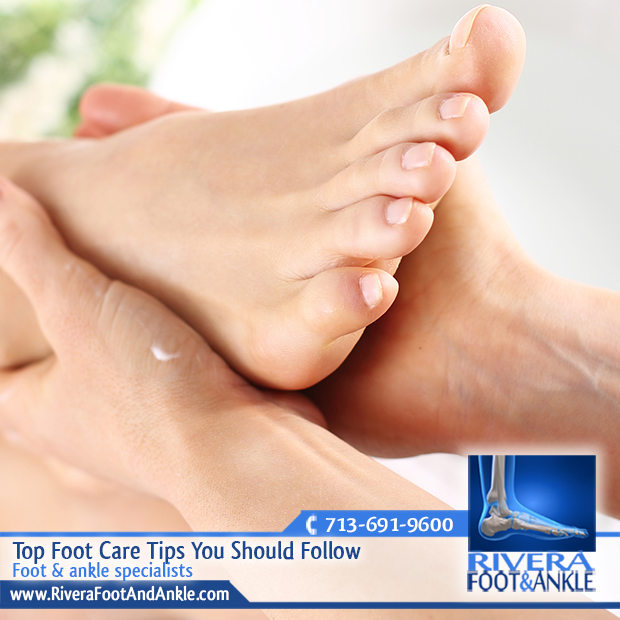 Foot & ankle specialists.
Foot and Ankle, Dr. Orlando Rivera, Advanced Foot & Ankle Specialist, Foot and Ankle Podiatry, Houston Foot & Ankle Surgical, Treatment of Foot and Ankle, Foot & ankle specialists, Podiatrist in houston, podiatrist in houston, Orlando H.Rivera DPM, Houston Foot Doctor, Foot and Ankle Surgeon Houston, Ankle and Foot Specialist Houston, Podiatrist Houston, Foot Pain Houston.