8 Foot Care Tips Diabetics Must Follow
Treatment of Foot and Ankle

1. - Keep your feet clean and dry. - Wash and dry your feet daily to keep them clean and free from infection. Use mild soaps and warm water to wash your feet and pat them dry especially between your toes.
2. - Apply skin lotion regularly. - Rub a thin coat of skin lotion on your feet (over the top and bottom, not between toes) to prevent cracking and keep your skin smooth and soft.

3. - Protect your feet from extreme heat and cold. - When diabetics develop nerve damage, their sense of touch decreases. And use of extreme heat or cold water by such people can cause serious damage to their feet in the form of burns and blisters. Always check the temperature of water with your hands before bathing or cleaning your feet.

4. - Check your feet daily. - Keep checking your feet daily for any cuts, cracks, redness and swelling as they may make you susceptible for infection. In case of foot blisters or injuries that do not heal quickly, seek treatment from your doctor or podiatrist.

5. - Trim your toenails with care. - Cut and file your nails once a week or as needed with proper care. Always cut the nails to the shape when they are soft (usually after bathing). Avoid cutting cuticles and corners of toes. Get treated for hard skin and corns with a podiatrist (foot doctor).

6. - Never walk barefoot. - Avoid going out barefoot, especially in the garden, puttering around your house or beach as the chances of hurting your feet increases thereby increasing the risk of infection.

7. - Wear clean and dry socks. - Wear stockings or socks that are light padded, clean and made from natural-fiber to avoid sores and blisters. Avoid wearing tight socks and wear only clean, washed ones.

8. - Buy shoes that fit properly. - Always protect your feet with shoes that are well-fitted and comfortable. Avoid shoes with pointed toes, high-heels and those that expose your heels or toes as they increase your risk of potential infections.
Source: The HealthSite
RIVERA FOOT & ANKLE: At Orlando H.Rivera DPM, our priority is to deliver quality care to informed patients in a comfortable and convenient setting. When you have problems with your feet, you need to turn to a podiatrist who listens and responds… an experienced doctor who knows the field and can effectively diagnose and treat your needs… a friendly physician who counsels you on the best ways to maintain and improve your health. Our physician(s) meet all these criteria. Plus, you benefit from a dedicated team of trained professionals who give you the individualized attention you deserve.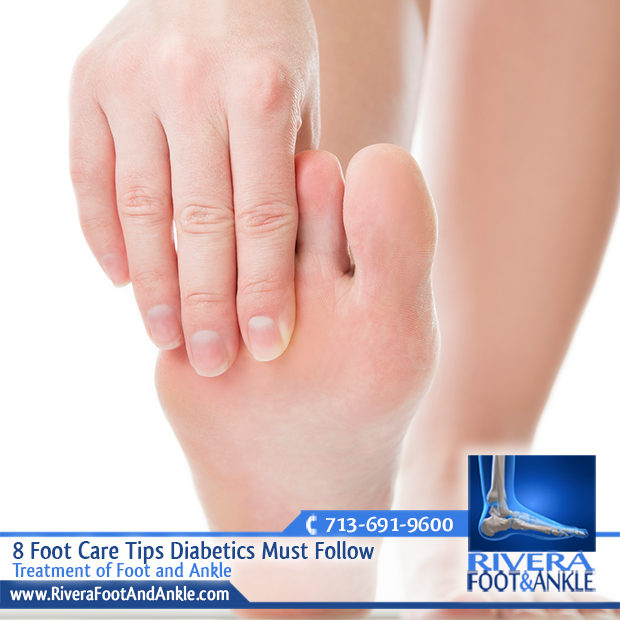 Treatment of Foot and Ankle.
Foot and Ankle, Dr. Orlando Rivera, Advanced Foot & Ankle Specialist, Foot and Ankle Podiatry, Houston Foot & Ankle Surgical, Treatment of Foot and Ankle, Foot & ankle specialists, Podiatrist in houston, podiatrist in houston, Orlando H.Rivera DPM, Houston Foot Doctor, Foot and Ankle Surgeon Houston, Ankle and Foot Specialist Houston, Podiatrist Houston, Foot Pain Houston.