The 5 Unhealthy Side Effects Of Wearing High Heels
Foot Pain Houston

1. Damage Toe Nails
There's more to keeping your toe nails nice than just a pedicure. High heels are the leading cause of ingrown toe nails. This occurs because the toes compress together, causing the big toe nails to grow into the skin. This can also lead to nail or fungal infections. 
2. Worsen Bunions
If you're unfortunate enough to have existing bunions, your high heels could be making them worse. These type of shoes exacerbate the problem because they tip your body weight forward, forcing your toes towards the front of your shoe. This action forces your big toes against your other toes, which can worsen your bunion protrusion.
3. Increase Knee And Hip Pain
Walking in high heels increases the amount of weight put on your knee joints, as women tend to bend their knees more while walking in the shoes. This can strain knee joints as well as the hip, and prolonged use can trigger fractures and trapped nerves.
4. Increase Your Risk Of Osteoarthritis
A study from the Journal of Orthopaedic Research found that wearing high heels that are 3 1/2 inches or higher can increase your lifetime risk of osteoarthritis, a leading cause of disability in women. Wearing even higher shoes can have a higher impact on your risk.
5. Muscle Pain And Spasms
Long-term wear of high heels can shorten the muscles in your calves and in your back, which can cause muscle pain and spasms, according to the American Osteopathic Association. Many women also experience painful leg cramps after wearing the shoes.
Your best bet is to limit your use of high heels and wear comfortable shoes whenever possible. However, if you're not about to toss your pumps, make sure your shoes fit properly, minimize the amount of time you have them your high heels on and massage your feet after each wear.
Source: simplemost
RIVERA FOOT & ANKLE: At Orlando H.Rivera DPM, our priority is to deliver quality care to informed patients in a comfortable and convenient setting. When you have problems with your feet, you need to turn to a podiatrist who listens and responds… an experienced doctor who knows the field and can effectively diagnose and treat your needs… a friendly physician who counsels you on the best ways to maintain and improve your health. Our physician(s) meet all these criteria. Plus, you benefit from a dedicated team of trained professionals who give you the individualized attention you deserve.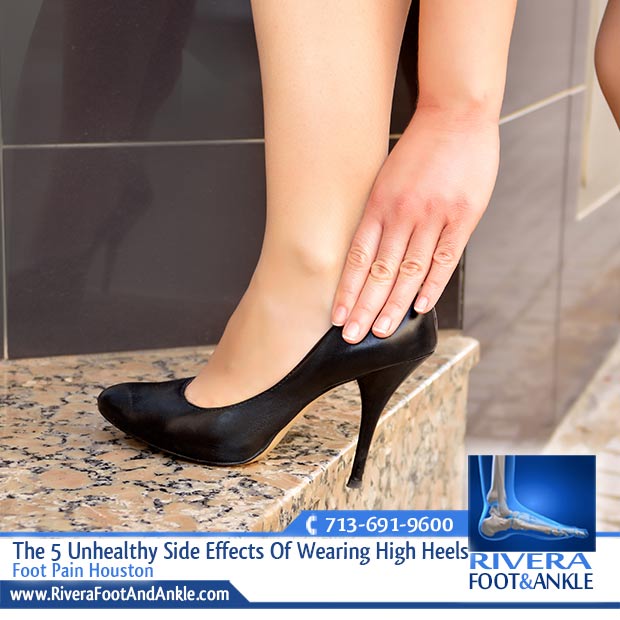 Foot Pain Houston.

Foot and Ankle, Dr. Orlando Rivera, Advanced Foot & Ankle Specialist, Foot and Ankle Podiatry, Houston Foot & Ankle Surgical, Treatment of Foot and Ankle, Foot & ankle specialists, Podiatrist in houston, podiatrist in houston, Orlando H.Rivera DPM, Houston Foot Doctor, Foot and Ankle Surgeon Houston, Ankle and Foot Specialist Houston, Podiatrist Houston, Foot Pain Houston.