Why Do I Have Pain on Top of My Foot?
What causes pain on top of the foot? 
What causes pain on top of the foot?
Pain on the top of the foot can be caused by different conditions, the most common of which are due to overuse in activities like running, jumping, or kicking. 
Conditions caused by overuse include:
Extensor tendonitis: This is caused by overuse or tight-fitting shoes. The tendons that run along the top of the foot and pull the foot upwards become inflamed and painful.
Sinus tarsi syndrome: This is rare and characterized as an inflamed sinus tarsi, or the channel found between the heel and the bone of the ankle. This condition causes pain in the top of the foot and outside the ankle.
Stress fractures of bones in the feet: Pain can result particularly from fractures in the metatarsal bones, which are located in the top of the feet. This injury will likely have swelling as a symptom.

Other causes of pain on the top of the foot can include:
gout, which can cause sudden, intense pain in the joint at the base of the big toe.
bone spurs, which are painful growths that form along your joints, in the joints in your feet by your toes.
peripheral neuropathy, which causes pain, prickling, or numbness that can spread up from the feet into the legs.
common peroneal nerve dysfunction, which is the dysfunction of a branch of the sciatic nerve that can cause tingling and pain at the top of the foot, along with weakness of the foot or lower leg.
Source: healthline
RIVERA FOOT & ANKLE: At Orlando H.Rivera DPM, our priority is to deliver quality care to informed patients in a comfortable and convenient setting. When you have problems with your feet, you need to turn to a podiatrist who listens and responds… an experienced doctor who knows the field and can effectively diagnose and treat your needs… a friendly physician who counsels you on the best ways to maintain and improve your health. Our physician(s) meet all these criteria. Plus, you benefit from a dedicated team of trained professionals who give you the individualized attention you deserve.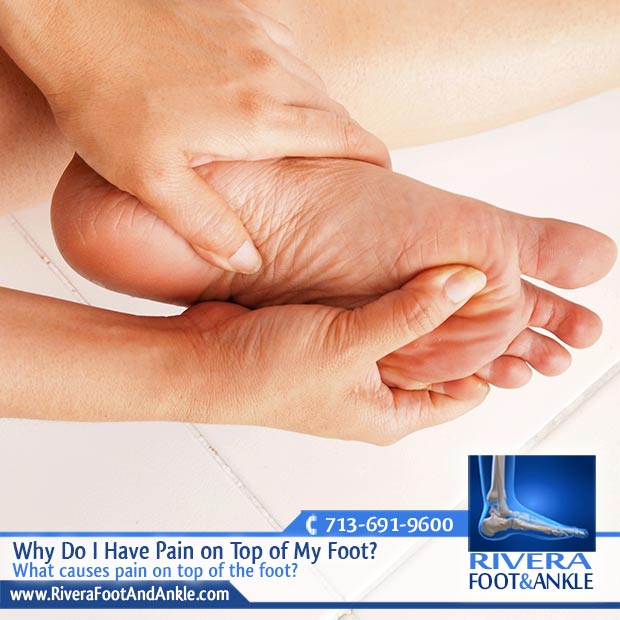 Dr. Orlando Rivera.

Foot and Ankle, Dr. Orlando Rivera, Advanced Foot & Ankle Specialist, Foot and Ankle Podiatry, Houston Foot & Ankle Surgical, Treatment of Foot and Ankle, Foot & ankle specialists, Podiatrist in houston, podiatrist in houston, Orlando H.Rivera DPM, Houston Foot Doctor, Foot and Ankle Surgeon Houston, Ankle and Foot Specialist Houston, Podiatrist Houston, Foot Pain Houston.