Podiatrist Houston
Flat feet are related to the tissues and bones in your feet and lower legs. The condition is normal in babies and toddlers because it takes time for the tendons to tighten and form an arch. In rare cases, the bones in a child's feet become fused, causing pain. 
If this tightening doesn't occur fully, it can result in flat feet. As you age or sustain injuries, the tendons in one or both feet may become damaged. The condition is also associated with diseases such as cerebral palsy and muscular dystrophy.

Who Is at Risk?
You're more likely to have flat feet if the condition runs in your family. If you're highly athletic and physically active, your risk is higher due to the possibility of foot and ankle injuries. Older people who are prone to falls or physical injury are also more at risk. People with diseases that affect the muscles for example, cerebral palsy also have an increased risk. Other risk factors include obesity, hypertension, and diabetes mellitus.

Recognizing the Symptoms
There is no cause for concern if your feet are flat and you have no pain. However, if your feet ache after walking long distances or standing for many hours, flat feet may be the cause. You may also feel pain in your lower legs and ankles. Your feet may feel stiff or numb, have calluses and possibly lean toward each other.

When to See a Podiatrist
If you have foot pain or your feet are causing problems with walking and running, see an orthopedic surgeon, podiatrist, or your regular doctor.

Diagnosing the problem requires a few tests. Your doctor will look for an arch in your feet as you stand on your toes. If an arch exists, you don't need treatment for flat feet. Your doctor will also look for flexion in your ankle.

If you're having difficulty flexing your foot or an arch doesn't appear, your doctor will order more tests, such as a foot X-ray or a scan to examine the bones and tendons in your feet.


Source: healthline

RIVERA FOOT & ANKLE: At Orlando H.Rivera DPM, our priority is to deliver quality care to informed patients in a comfortable and convenient setting. When you have problems with your feet, you need to turn to a podiatrist who listens and responds… an experienced doctor who knows the field and can effectively diagnose and treat your needs… a friendly physician who counsels you on the best ways to maintain and improve your health. Our physician(s) meet all these criteria. Plus, you benefit from a dedicated team of trained professionals who give you the individualized attention you deserve.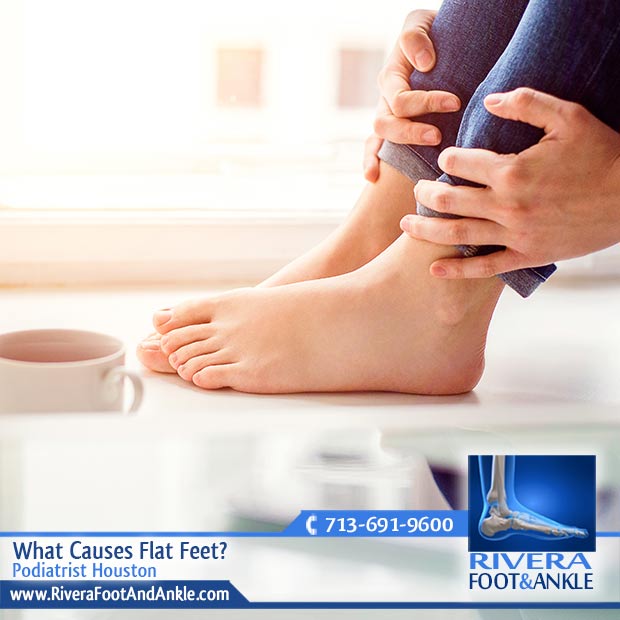 Podiatrist Houston.

Foot and Ankle, Dr. Orlando Rivera, Advanced Foot & Ankle Specialist, Foot and Ankle Podiatry, Houston Foot & Ankle Surgical, Treatment of Foot and Ankle, Foot & ankle specialists, Podiatrist in houston, podiatrist in houston, Orlando H.Rivera DPM, Houston Foot Doctor, Foot and Ankle Surgeon Houston, Ankle and Foot Specialist Houston, Podiatrist Houston, Foot Pain Houston.