Ankle and Foot Specialist Houston

What Is an Ankle Sprain?
An ankle sprain is an injury to the tough bands of tissue (ligaments) that surround and connect the bones of the leg to the foot. The injury typically happens when you accidentally twist or turn your ankle in an awkward way. This can stretch or tear the ligaments that hold your ankle bones and joints together. 
All ligaments have a specific range of motion and boundaries that allow them to keep the joints stabilized. When ligaments surrounding the ankle are pushed past these boundaries, it causes a sprain. Sprained ankles most commonly involve injuries to the ligaments on the outside of the ankle.

You should call your doctor right away if you sprain your ankle. Your doctor can determine the severity of the injury and recommend a proper course of treatment. It can take several weeks or months for a sprained ankle to heal completely.

What Causes an Ankle Sprain?
An ankle sprain often occurs when the foot suddenly twists or rolls, forcing the ankle joint out of its normal position. During physical activity, the ankle may twist inward as a result of sudden or unexpected movement. This causes one or more ligaments around the ankle to stretch or tear. Some swelling or bruising can occur as a result of these tears. You may also feel pain or discomfort when you place weight on the affected area. Tendons, cartilage, and blood vessels might also be damaged due to the sprain.

Ankle sprains can happen to anyone at any age. Participating in sports, walking on uneven surfaces, or even wearing inappropriate footwear can all cause this type of injury.
Source: healthline
RIVERA FOOT & ANKLE: At Orlando H.Rivera DPM, our priority is to deliver quality care to informed patients in a comfortable and convenient setting. When you have problems with your feet, you need to turn to a podiatrist who listens and responds… an experienced doctor who knows the field and can effectively diagnose and treat your needs… a friendly physician who counsels you on the best ways to maintain and improve your health. Our physician(s) meet all these criteria. Plus, you benefit from a dedicated team of trained professionals who give you the individualized attention you deserve.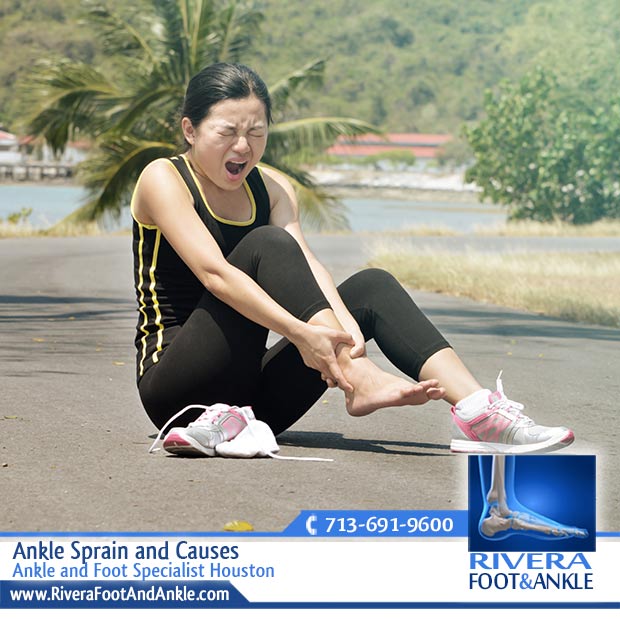 Ankle and Foot Specialist Houston.

Foot and Ankle, Dr. Orlando Rivera, Advanced Foot & Ankle Specialist, Foot and Ankle Podiatry, Houston Foot & Ankle Surgical, Treatment of Foot and Ankle, Foot & ankle specialists, Podiatrist in houston, podiatrist in houston, Orlando H.Rivera DPM, Houston Foot Doctor, Foot and Ankle Surgeon Houston, Ankle and Foot Specialist Houston, Podiatrist Houston, Foot Pain Houston.