Types of Fungal Nail Infection
Podiatrist Houston
Distal subungual onychomycosis (DSO) is the most common type of fungal nail infection. It is caused by the same fungi that cause most cases of athlete's foot (dermatophytes). DSO infects the skin under the end of the nail (nail bed) and in the nail. The infection starts at the end of the nail bed, and part of the nail often turns yellow or white. 
White superficial onychomycosis (WSO), the second most common type of fungal nail infection. It can be easily treated. WSO affects the top layer of the nail, first forming white spots on the nail surface. Eventually the entire surface of the nail becomes covered with a crumbly, chalky powder. The nail does not thicken and does not separate from the skin.
Candida onychomycosis, or yeast infection of the nail, is uncommon but can affect the nail and the skin bordering the nail (nail folds). This type of fungal infection is more common in fingernails than toenails. It may involve all of the nails at the same time and can cause the nail to separate from the nail bed. It invades weakened areas of the nail, which may become discolored white, green, or brownish, with an odd shape. The nail may look thicker than normal, and there may be signs of infection (reddened, swollen, tender, or warm) in the skin next to the nail (nail fold). Unlike the other types of fungal nail infections, the infection may be painful.
Proximal subungual onychomycosis (PSO) is caused by dermatophytes. It is more common in people infected with the human immunodeficiency virus (HIV). PSO infects the base of the nail (skin at the nail fold), often thickening the skin, which can separate from the nail. The base of the nail may appear white, and the nail opaque. The skin on top of the foot may become infected.

Source: webmd
RIVERA FOOT & ANKLE: At Orlando H.Rivera DPM, our priority is to deliver quality care to informed patients in a comfortable and convenient setting. When you have problems with your feet, you need to turn to a podiatrist who listens and responds… an experienced doctor who knows the field and can effectively diagnose and treat your needs… a friendly physician who counsels you on the best ways to maintain and improve your health. Our physician(s) meet all these criteria. Plus, you benefit from a dedicated team of trained professionals who give you the individualized attention you deserve.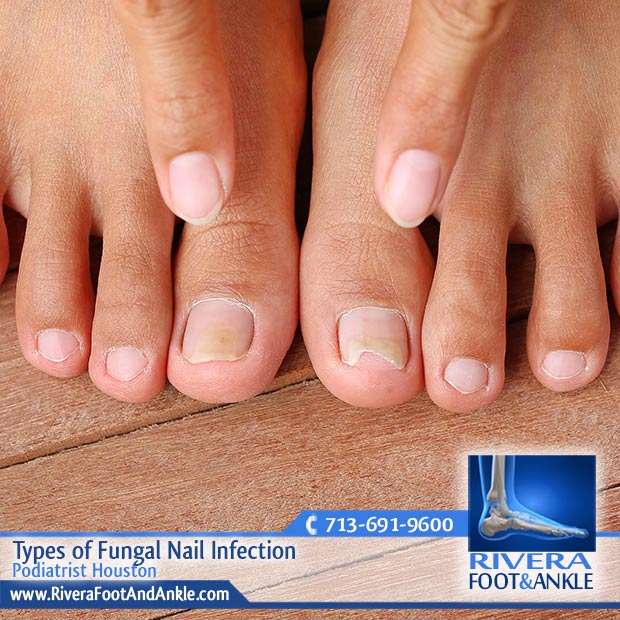 Podiatrist Houston.
Foot and Ankle, Dr. Orlando Rivera, Advanced Foot & Ankle Specialist, Foot and Ankle Podiatry, Houston Foot & Ankle Surgical, Treatment of Foot and Ankle, Foot & ankle specialists, Podiatrist in houston, podiatrist in houston, Orlando H.Rivera DPM, Houston Foot Doctor, Foot and Ankle Surgeon Houston, Ankle and Foot Specialist Houston, Podiatrist Houston, Foot Pain Houston.