8 Ways to Take Care of Runner's Feet
Treatment of Foot and Ankle
1. Run in the Right Shoes
The first step you need to take to keep your feet happy and healthy is to run in the proper pair of shoes. 
And by proper shoes, I'm not talking about the shoe brand, model, and color, but mainly about the shoe fit.
If the shoes are improper too tight, too loose, or does not feel right this can lead to a myriad of problems for your feet.
2. Opt For the Right Socks
Picking the right shoes is just the beginning of the story. You will also need to run in the proper socks. In fact, an ill-fitting and/or indecent pair of socks is one of the leading root causes of blisters and other running trouble.
The best socks for running are lightweight and made from water-resistant materials that wick away moisture and are breathable so you can prevent the undue friction that usually leads to blisters.
3. Soften your Skin
The skin on our feet tends to be thick, bumpy and dry. The bad news is, as a runner, dry skin can lead to heel fissures, where the dry skin cracks and bleeds, which is baaaad!!
What's more? The repetitive impact of running can exacerbate the cracks, making them more prone to infection.
As a result, to ward off this trouble, make sure to soften your skin on a regular basis. Rub the moisturizer into the skin until your feet start feeling supple and soft.
4. Use Ice
As you already know, the feet tend to overheat and swell after each run. One thing you can do to reduce the swelling is put cold therapy to your advantage.
Therefore, make sure to immerse your feet as long as you don't have vascular troubles in a bucket with water and ice for at least 15-minute after a hard run. If you can't tolerate the cold, then run cold water from a hose over your feet.
Plus, to ease the inflammation, you can also raise your legs and use an ice pack on them. Apply ice on your feet for no more than 15 to 20 minutes, or you will risk frostbite.
5. Stop the Fungus
Known as athlete's foot, this painful infection causes itchy pain, redness, and blisters on the toes and soles of the feet. And it's really, really painful.
Here is what to do keep fungus at bay:
Make sure to keep your feet fresh and dry as often as possible. Why? Fungus finds fertile ground in murky; and by keeping your feet clean, you are making it less likely for the condition to arise.
6. Nail and Foot Care
Long nails can get caught in socks and tear the perfect set you just bought. Not only that, untrimmed nails lead to the sort of strain that can create blood pooling under the nail, and a long untrimmed toe can cut the neighboring toes, leading to pain.
7. Work your Toes
The foot region is, like your glutes, core and chest muscles, another "muscle group" that needs strength training.
See, a lot of running injuries can be linked to weak feet. If the muscles around your feet are weak, they will not move the foot into its correct running position.
8. Massage
Massaging your feet will not only provide with an instant relief but also help you prevent much of the trouble for the long term.
If you can afford to work with a specialist or have a loving partner who is offering to rub your feet regularly, no-strings-attached, that will be awesome. But most of us can't afford to work with a professional or have someone willing to massage our feet for free.
Source: runnersblueprint
RIVERA FOOT & ANKLE: At Orlando H.Rivera DPM, our priority is to deliver quality care to informed patients in a comfortable and convenient setting. When you have problems with your feet, you need to turn to a podiatrist who listens and responds… an experienced doctor who knows the field and can effectively diagnose and treat your needs… a friendly physician who counsels you on the best ways to maintain and improve your health. Our physician(s) meet all these criteria. Plus, you benefit from a dedicated team of trained professionals who give you the individualized attention you deserve.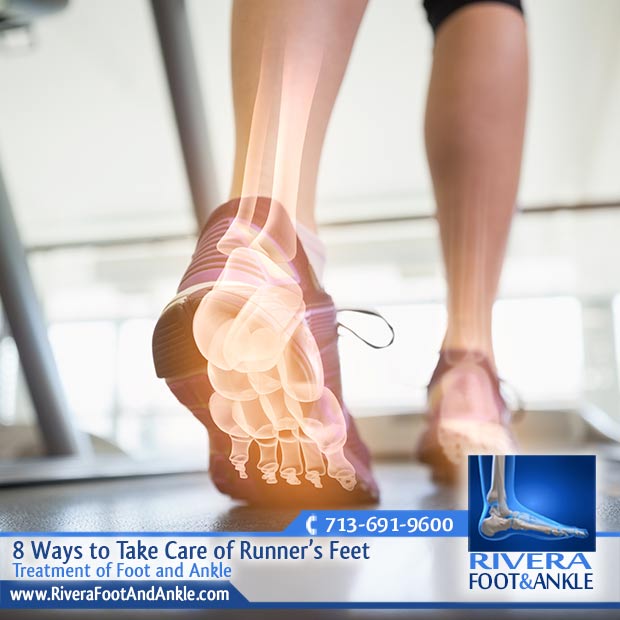 Treatment of Foot and Ankle.
Foot and Ankle, Dr. Orlando Rivera, Advanced Foot & Ankle Specialist, Foot and Ankle Podiatry, Houston Foot & Ankle Surgical, Treatment of Foot and Ankle, Foot & ankle specialists, Podiatrist in houston, podiatrist in houston, Orlando H.Rivera DPM, Houston Foot Doctor, Foot and Ankle Surgeon Houston, Ankle and Foot Specialist Houston, Podiatrist Houston, Foot Pain Houston.