Caring for your child's feet
Foot & ankle specialists
How are my toddler's feet developing?
When your baby's born, the bones in her feet are made of soft, flexible cartilage. This gradually hardens over time. They won't be fully developed until her late teens. 
To begin with, your baby's feet are quite flat. But by the time she's about two years old, you should be able to see what kind of foot shape she has.
Your toddler will inherit one of three main foot shapes from either you or your partner:
Tapered: her big toe is the biggest of all her toes.
Rounded: her second or third toe is longer than her big toe.
Square: all her toes are about the same length.
How can I take care of my toddler's feet?
Allow your toddler's feet to develop as naturally as possible. Let her spend time without shoes every day so she can exercise the muscles in her feet. You can encourage her to flex and stretch them by tickling her.
Socks or tights made from cotton, or a cotton and wool mix, will keep your toddler's feet warm while giving them room to develop. Regularly check that she's wearing the right size, especially if you tumble dry them. Socks can shrink, and if they're too tight, this can restrict how your toddler's feet grow. Even if your toddler isn't walking yet, make sure that any soft booties she wears also have lots of room for her toes to move.
You should also check that your toddler's bedding and sleepsuits have plenty of space for her toes to move around easily. If you tuck her in too tightly, she may not be able to move her feet around at night, which is bad for their development.
Wash your toddler's feet thoroughly and dry them well between the toes. You could also use a sprinkling of talcum powder to help keep her feet dry and healthy. Just be sure to shake off any excess powder so it doesn't clump between her toes.
Source: babycentre
RIVERA FOOT & ANKLE: At Orlando H.Rivera DPM, our priority is to deliver quality care to informed patients in a comfortable and convenient setting. When you have problems with your feet, you need to turn to a podiatrist who listens and responds… an experienced doctor who knows the field and can effectively diagnose and treat your needs… a friendly physician who counsels you on the best ways to maintain and improve your health. Our physician(s) meet all these criteria. Plus, you benefit from a dedicated team of trained professionals who give you the individualized attention you deserve.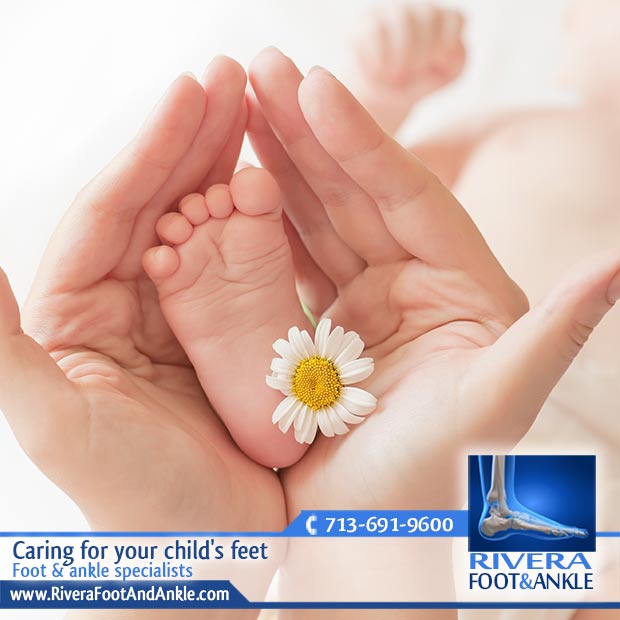 Foot and Ankle.
Foot and Ankle, Dr. Orlando Rivera, Advanced Foot & Ankle Specialist, Foot and Ankle Podiatry, Houston Foot & Ankle Surgical, Treatment of Foot and Ankle, Foot & ankle specialists, Podiatrist in houston, podiatrist in houston, Orlando H.Rivera DPM, Houston Foot Doctor, Foot and Ankle Surgeon Houston, Ankle and Foot Specialist Houston, Podiatrist Houston, Foot Pain Houston.