Top 10 Tips for Treating Children's Feet
Foot and Ankle
1. Look carefully at your newborn's feet. Be on the lookout for anything unusual. Problems you notice at birth may not disappear by themselves. Early treatment can often correct abnormalities, such as club foot, a congenital condition that occurs in about one in 1,000 births. 
2. Lightly cover your baby's feet. Tight covers can keep your baby from moving freely and could even retard normal development, according to the APMA. "Kicking and moving the legs and feet around helps strengthen the muscles in preparation to walk".
3. Let your toddler go shoeless. When kids first start to walk, going without shoes indoors is good for normal development. "Walking barefoot or wearing just socks strengthens the muscles in the feet and helps develop the grasping action of the toes".
4. Watch for lingering toe-walking. Walking on the toes is usually normal when kids first start to walk, but if a child walks exclusively on the toes after age 2, tell your pediatrician. Persistent toe walking could be linked to cerebral palsy, muscular dystrophy, or other nervous system problems.
5. Cut toenails straight across. This will help prevent painful ingrown toenails. Signs of an ingrown toenail include pain, redness, and swelling. If an ingrown toenail does occur, ease the pain by putting a little bit of cotton between the skin and the ingrown toenail.
6. Keep feet clean and dry. Preventing bacterial and fungal infections starts with good hygiene. Thoroughly wash your kids' feet at bath time. Afterward, dry them well between the toes to prevent athlete's foot, a fungal infection that thrives in moisture.
7. Buy well-fitting shoes. Always take your child with you when purchasing shoes. Kids' feet need to be measured every single time, since they grow so rapidly. Too-tight shoes can cause blisters, corns, calluses, or ingrown toenails that can become infected. "If your child is constantly taking her shoes off, that's a red flag that they may be uncomfortable".
8. Prevent foot injuries. Walking barefoot outdoors on dirty pavement exposes kids' feet to splinters, cuts, and severe injuries.
9. Cover cuts. Wash minor cuts, scrapes, and scratches on the feet with soap and water and keep them covered with a bandage until they've healed. It's a myth that exposing injuries to fresh air will help them heal better. "Exposure to fresh air means exposure to germs".
10. Show and tell. Kids learn by imitating. Clean and properly dry your feet and have your child copy. Also demonstrate how to cut toenails to prevent painful problems. "Many adult foot problems start in childhood".
Source: everydayhealth
RIVERA FOOT & ANKLE: At Orlando H.Rivera DPM, our priority is to deliver quality care to informed patients in a comfortable and convenient setting. When you have problems with your feet, you need to turn to a podiatrist who listens and responds… an experienced doctor who knows the field and can effectively diagnose and treat your needs… a friendly physician who counsels you on the best ways to maintain and improve your health. Our physician(s) meet all these criteria. Plus, you benefit from a dedicated team of trained professionals who give you the individualized attention you deserve.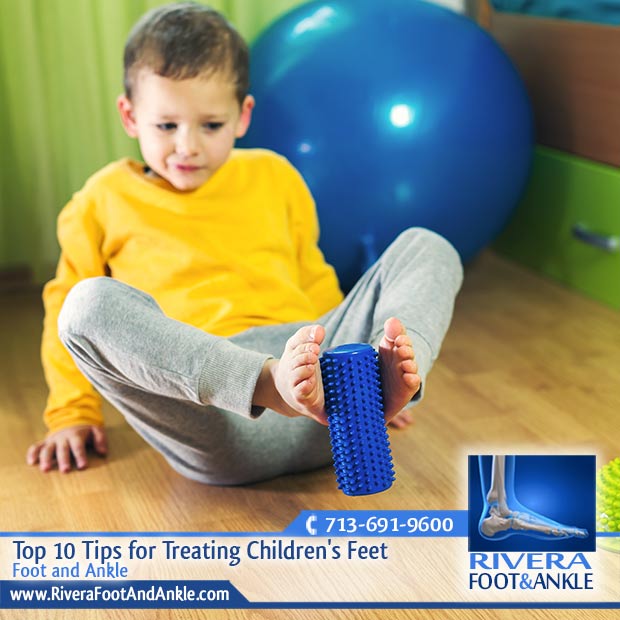 Foot and Ankle.
Foot and Ankle, Dr. Orlando Rivera, Advanced Foot & Ankle Specialist, Foot and Ankle Podiatry, Houston Foot & Ankle Surgical, Treatment of Foot and Ankle, Foot & ankle specialists, Podiatrist in houston, podiatrist in houston, Orlando H.Rivera DPM, Houston Foot Doctor, Foot and Ankle Surgeon Houston, Ankle and Foot Specialist Houston, Podiatrist Houston, Foot Pain Houston.