Foot and Ankle Podiatry
Sever's disease occurs in children when the growth plate (which is the growing part of the heel) is injured. The foot is one of the first body parts to grow to full size. This usually occurs in early puberty. During this time, bones often grow faster than muscles and tendons.
 As a result, muscles and tendons become tight. The heel area is less flexible. During weight-bearing activity (activity performed while standing), the tight heel tendons may put too much pressure at the back of the heel (where the Achilles tendon attaches). This can injure the heel and cause Sever's disease.
Causes
When is my child most at risk for Sever's disease?
Your child is most at risk for this condition when he or she is in the early part of the growth spurt in early puberty. Sever's disease is most common in physically active girls 8 years to 10 years of age and in physically active boys 10 years to 12 years of age. Soccer players and gymnasts often get Sever's disease, but children who do any running or jumping activity may also be at an increased risk. Sever's disease rarely occurs in older teenagers because the back of the heel has typically finished growing by 15 years of age.
Diagnosis
How do I know if my child's heel pain is caused by Sever's disease?
In Sever's disease, heel pain can be in one or both heels. It usually starts after a child begins a new sports season or a new sport. Your child may walk with a limp. The pain may increase when he or she runs or jumps. He or she may have a tendency to tiptoe. Your child's heel may hurt if you squeeze both sides toward the very back. This is called the squeeze test. Your doctor may also find that your child's heel tendons have become tight.
Prevention
Can Sever's disease be prevented?
Sever's disease may be prevented by maintaining good flexibility while your child is growing. The stretching exercises pictured in the treatment section can lower your child's risk for injuries during the growth spurt. Talk with your doctor for more advice. Good-quality shoes with firm support and a shock-absorbent sole will help. Your child should avoid excessive running on hard surfaces.
Source: familydoctor
RIVERA FOOT & ANKLE: At Orlando H.Rivera DPM, our priority is to deliver quality care to informed patients in a comfortable and convenient setting. When you have problems with your feet, you need to turn to a podiatrist who listens and responds… an experienced doctor who knows the field and can effectively diagnose and treat your needs… a friendly physician who counsels you on the best ways to maintain and improve your health. Our physician(s) meet all these criteria. Plus, you benefit from a dedicated team of trained professionals who give you the individualized attention you deserve.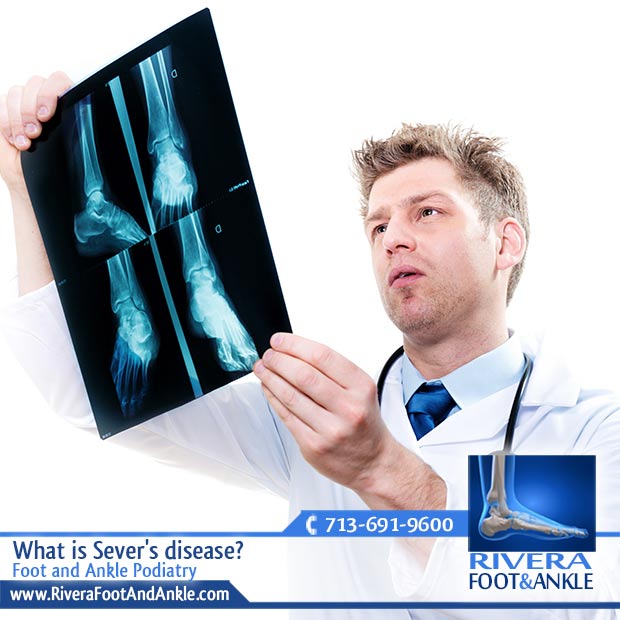 Foot and Ankle Podiatry.
Foot and Ankle, Dr. Orlando Rivera, Advanced Foot & Ankle Specialist, Foot and Ankle Podiatry, Houston Foot & Ankle Surgical, Treatment of Foot and Ankle, Foot & ankle specialists, Podiatrist in houston, podiatrist in houston, Orlando H.Rivera DPM, Houston Foot Doctor, Foot and Ankle Surgeon Houston, Ankle and Foot Specialist Houston, Podiatrist Houston, Foot Pain Houston.