Ankle sprains: what's normal, what's not
Sprains can happen with any sport, including just walking across the yard! Ankle sprains are most common in ball sports such as basketball, soccer, volleyball and others. 
What happens? The ankle is designed to have much more motion with the foot turning in, which is how sprains usually happen. The term "sprain" refers to any ligament injury. Ligaments are the tough fibers that connect bones to each other to give the skeleton strength while still allowing joints to move.
The most common ankle sprains involve tearing of the ligaments on the outside of the ankle. The ligament tearing leads to bleeding deep inside, which you see as bruising on the skin. Fortunately, your body is designed to heal injuries, so these ligaments will almost always heal on their own.
As with any injury, your body quickly sends blood to start the healing process, which leads to the swelling. Remember: your heart is the pump and it is a long way to pump the blood back up from the ankle. For many people, some swelling will continue long after the sprain has "healed" and you are back to activities. This is again due to the distance from the ankle to the heart. At night, the swelling gets better but with activity during the day, the fluid from normal blood flow leads to gradual swelling.
Rest, ice, compression, elevation, known as RICE, is a good way to treat an ankle sprain. This decreases the swelling, lessens your pain, and allows your body to heal the injury. Studies have shown that the sooner you return to activity, the better and typically the faster you will recover.
If pain allows, start moving the ankle early.
When to seek care: If it hurts too much to put any weight on the ankle and you can't walk, seek treatment immediately. Depending on the amount of injury to the ligaments, it may be days, weeks, or even months to return to high intensity sports. Sometimes recovery may be slow, but if it gets better day by day or week by week you are on the right path.
If the ankle seems to stop improving and you just can't get back to your activities then your Orthopaedic Surgeon can help.
Prevention: It is always better to avoid the sprain in first place! Remember to stretch before sports to prevent ankle and other injuries to all your bones and joints. Some studies show that taping or an ankle brace can help avoid repeat sprains if you have had sprains in the past.
Source: anationinmotion
RIVERA FOOT & ANKLE: At Orlando H.Rivera DPM, our priority is to deliver quality care to informed patients in a comfortable and convenient setting. When you have problems with your feet, you need to turn to a podiatrist who listens and responds… an experienced doctor who knows the field and can effectively diagnose and treat your needs… a friendly physician who counsels you on the best ways to maintain and improve your health. Our physician(s) meet all these criteria. Plus, you benefit from a dedicated team of trained professionals who give you the individualized attention you deserve.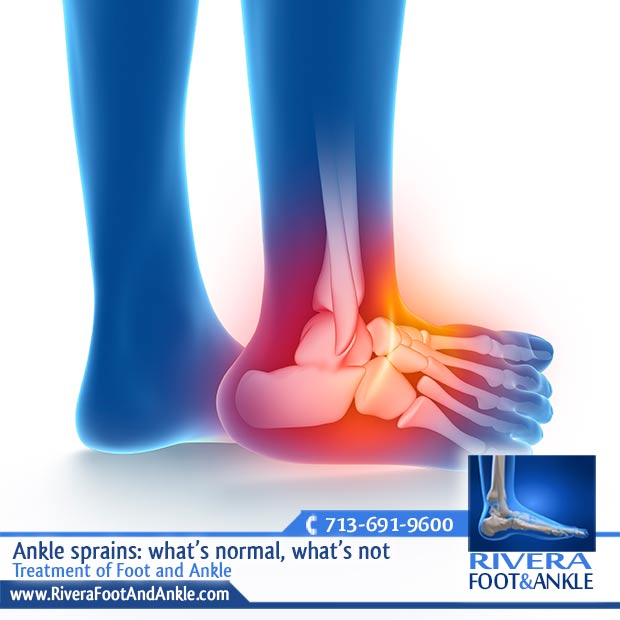 Foot and Ankle.
Foot and Ankle, Dr. Orlando Rivera, Advanced Foot & Ankle Specialist, Foot and Ankle Podiatry, Houston Foot & Ankle Surgical, Treatment of Foot and Ankle, Foot & ankle specialists, Podiatrist in houston, podiatrist in houston, Orlando H.Rivera DPM, Houston Foot Doctor, Foot and Ankle Surgeon Houston, Ankle and Foot Specialist Houston, Podiatrist Houston, Foot Pain Houston.