Maybe you came down too hard when you jumped to catch a ball. Perhaps you stepped into a hole and twisted your foot. You might be the newest member of a common club: people with an ankle sprain.
This injury happens when the ligaments in your ankle tear or get stretched too much.
Ligaments are the strong, stretchy bands that help stabilize your ankle. They hold the bones of your ankle together, but they allow for some movement. When there is too much movement, you may get a sprain.
Sprains most often happen on the outside of the ankle when you "roll" your foot. This causes the ligament on the outside of your ankle to stretch more than it is able to.
What Are the Causes?
Most ankle sprains happen when you're playing sports. This is especially true for games where there's a lot of jumping or a chance of stepping on someone's foot. Those include:
Basketball
Soccer
Volleyball
Yet it's also just as easy to sprain your ankle by stepping off a curb the wrong way or taking a walk on the beach.
You may have a greater chance for an ankle sprain if you've had one before. It's also more likely if you have weak muscles along the outside of the ankles.
Even genetics can play a role. It's easier to turn your ankle and put strain on the ligament if your heel naturally turns more inward. That's known as "hindfoot varus."
Symptoms
One very clear sign of an ankle sprain is it hurts. A lot. Other symptoms you might have when your ankle is sprained:
Tenderness to the touch
Swelling
Bruising
Itching
Cold or numb feet
Stiffness

If you tear your ligaments severely, you feel a pop or even hear a noise when the injury happens.
Source: webmd
RIVERA FOOT & ANKLE: At Orlando H.Rivera DPM, our priority is to deliver quality care to informed patients in a comfortable and convenient setting. When you have problems with your feet, you need to turn to a podiatrist who listens and responds… an experienced doctor who knows the field and can effectively diagnose and treat your needs… a friendly physician who counsels you on the best ways to maintain and improve your health. Our physician(s) meet all these criteria. Plus, you benefit from a dedicated team of trained professionals who give you the individualized attention you deserve.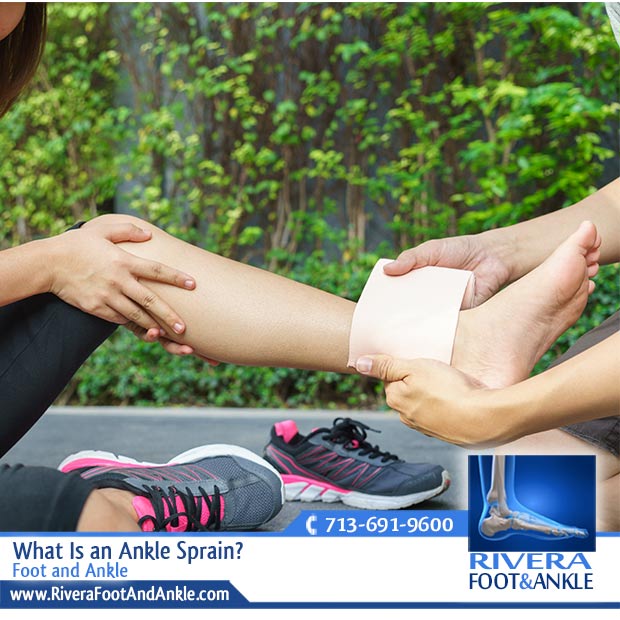 Foot and Ankle.
Foot and Ankle, Dr. Orlando Rivera, Advanced Foot & Ankle Specialist, Foot and Ankle Podiatry, Houston Foot & Ankle Surgical, Treatment of Foot and Ankle, Foot & ankle specialists, Podiatrist in houston, podiatrist in houston, Orlando H.Rivera DPM, Houston Foot Doctor, Foot and Ankle Surgeon Houston, Ankle and Foot Specialist Houston, Podiatrist Houston, Foot Pain Houston.