1. Avoid having moist skin. Keep your skin as dry as possible. If you tend to have sweaty feet, you're going to be more prone to blisters. 
2. Wear socks with your shoes. That alone can help prevent blisters. Preferably, wear socks that will wick moisture away from your skin, especially for athletic activities where you're likely to sweat.
3. Use drying agents like aluminum chloride or talcum powder that you can apply to your feet before athletic activities. Or apply a drying agent in the morning that can help prevent overly sweaty feet.
4. Break your shoes in ahead of time before you use them for athletic events that require running, accelerating, quick stopping, jumping or other athletic moves.
The same applies for new dress shoes, high-heeled shoes or boots. Make sure you break them in slowly before wearing them for long periods of time. If your shoes are rubbing, place petroleum jelly or an adhesive bandage on the spot where the rubbing occurs.
5. Wear gloves if you are raking, shoveling, moving heavy objects or lifting weights. Wash your hands frequently and use a towel to be sure that your hands are dry, which will help you prevent blisters. Even playing video games or other repetitive motions for extended periods of time can give you blisters, too, so just be aware of the onset of redness, drainage or sweating and pain.
There are other types of blisters, too, such as those caused by minor burns, blood blisters from pinching or crushing injuries to your skin or those from medical conditions.
Source: health
RIVERA FOOT & ANKLE: At Orlando H.Rivera DPM, our priority is to deliver quality care to informed patients in a comfortable and convenient setting. When you have problems with your feet, you need to turn to a podiatrist who listens and responds… an experienced doctor who knows the field and can effectively diagnose and treat your needs… a friendly physician who counsels you on the best ways to maintain and improve your health. Our physician(s) meet all these criteria. Plus, you benefit from a dedicated team of trained professionals who give you the individualized attention you deserve.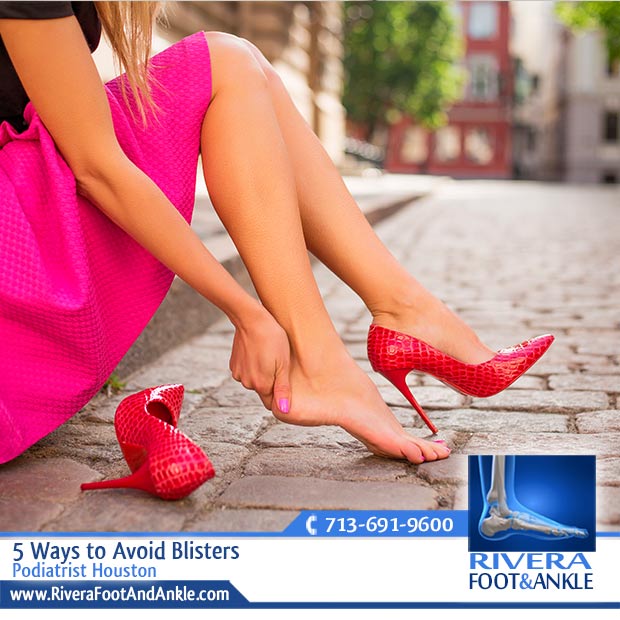 Podiatrist Houston.
Foot and Ankle, Dr. Orlando Rivera, Advanced Foot & Ankle Specialist, Foot and Ankle Podiatry, Houston Foot & Ankle Surgical, Treatment of Foot and Ankle, Foot & ankle specialists, Podiatrist in houston, podiatrist in houston, Orlando H.Rivera DPM, Houston Foot Doctor, Foot and Ankle Surgeon Houston, Ankle and Foot Specialist Houston, Podiatrist Houston, Foot Pain Houston.