Most often, neuropathy is the cause of burning feet. Damaged nerve fibers are more likely to become overactive and misfire.
The damaged nerves send pain signals to the brain even though there is no wound.
In most people with neuropathy, the leg nerves become damaged first. These people often have tingling and numbness in the feet as well. Many people complain that their feet are overly sensitive to touch (hyperesthesia) and can have varying degrees of burning pain. It can range from mild to disabling.
Diabetes and alcohol abuse are by far the most common causes of neuropathy in the legs. Many other conditions can cause neuropathy or a burning sensation in the feet:
Chronic kidney disease (uremia)
Small fiber neuropathy
Vitamin deficiency (vitamin B12, folate, and occasionally vitamin B6)
Alcohol abuse
Low thyroid hormone levels (hypothyroidism)
Lyme disease
HIV/AIDS
Amyloid polyneuropathy
Drug side effects, including chemotherapy drugs, vitamin B6 overdose, HIV medicines, amiodarone, isoniazid, metformin, and others
Erythromelalgia
Heavy metal poisoning (lead, mercury, arsenic)
Vasculitis (inflammation of blood vessels)
Sarcoidosis
Guillain-Barre syndrome (GBS)
Chronic inflammatory demyelinating polyneuropathy (CIDP)
Besides neuropathy, infections and inflammation of the feet can also cause a burning sensation. The most common of these is athlete's foot, an infection of the skin caused by fungus.
Peripheral artery disease (PAD) also commonly causes burning feet. The poor circulation of blood to the feet may frequently cause pain, tingling, and burning feet, especially while walking.
Weeks or months after gastric bypass surgery, some people experience a burning feet sensation. Poor absorption of B vitamins after gastric bypass can cause neuropathy in the legs and a sensation of burning feet.
Source: webmd
RIVERA FOOT & ANKLE: At Orlando H.Rivera DPM, our priority is to deliver quality care to informed patients in a comfortable and convenient setting. When you have problems with your feet, you need to turn to a podiatrist who listens and responds… an experienced doctor who knows the field and can effectively diagnose and treat your needs… a friendly physician who counsels you on the best ways to maintain and improve your health. Our physician(s) meet all these criteria. Plus, you benefit from a dedicated team of trained professionals who give you the individualized attention you deserve.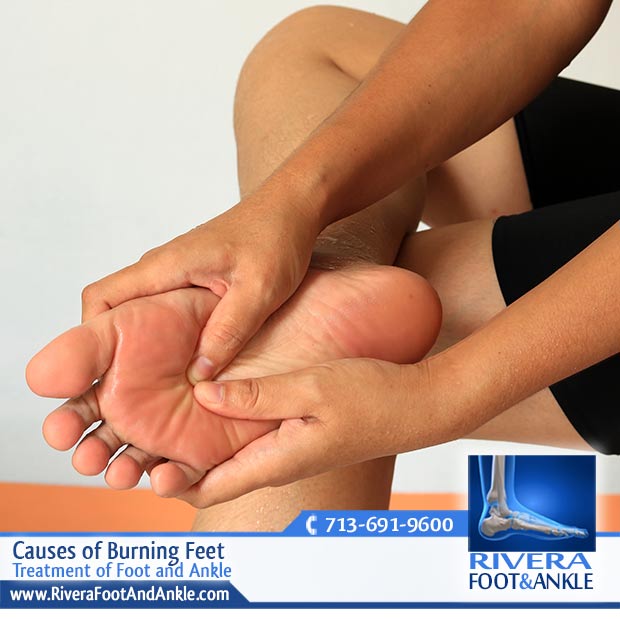 Treatment of Foot and Ankle.
Foot and Ankle, Dr. Orlando Rivera, Advanced Foot & Ankle Specialist, Foot and Ankle Podiatry, Houston Foot & Ankle Surgical, Treatment of Foot and Ankle, Foot & ankle specialists, Podiatrist in houston, podiatrist in houston, Orlando H.Rivera DPM, Houston Foot Doctor, Foot and Ankle Surgeon Houston, Ankle and Foot Specialist Houston, Podiatrist Houston, Foot Pain Houston.