There are several ways of preventing bunions from becoming severe and affecting everyday life,
indeed the Society of Chiropodists and Podiatrists have some very useful info, which in essence proscribe the following sensible precautions.
Visit a podiatrist early:
Most people ignore the signs of bunions when it's at a mild stage and allow it develop to something more serious before they seek help. So as soon as you notice the signs make an appointment with a podiatrist for proper diagnosis and treatment. You don't need a doctor's referral to see a podiatrist and based on your health care plan the initial visit can be fully or partly covered.
Wear comfortable shoes:
Wearing ill fitting shoes are prime causes of bunions. Exchange your high-heels for lower heeled shoes or wedges which provide support to the feet. At the same time wear fewer pointy-toe shoes and more round-toe shoes instead. If you do a lot of walking, it's best to wear comfortable shoes like sneakers.
Buy custom orthotics:
Orthotics are worn to provide comfort and support to the foot. But as no two feet are the same, off-the-shelf orthotics are not as effective in preventing bunions. Custom orthotics are made to fit the needs of your feet, and although they are expensive, they are effective. One thing to remember about orthotics is that they may not fit into every shoe, so it's important to bring them with you when buying a new pair of shoes.
Do the right exercise:
Not all activities are suitable for bunions. Running for example is a high impact activity and heavy going on your feet, but if you must run make sure to wear a well padded shoe in order to absorb as much of the of the shock as possible. Instead of running do low-impact exercises like swimming, yoga, walking, or biking.
Minimize friction:
The last thing bunions need is friction or pressure, as this will only cause pain, swelling, and discomfort which will worsen the condition. So to reduce friction to the bunion use orthotics with your shoes, apply ice if there is swelling, and keep your footwear feeling comfortable
Source: Foot Pain Facts
RIVERA FOOT & ANKLE: At Orlando H.Rivera DPM, our priority is to deliver quality care to informed patients in a comfortable and convenient setting. When you have problems with your feet, you need to turn to a podiatrist who listens and responds… an experienced doctor who knows the field and can effectively diagnose and treat your needs… a friendly physician who counsels you on the best ways to maintain and improve your health. Our physician(s) meet all these criteria. Plus, you benefit from a dedicated team of trained professionals who give you the individualized attention you deserve.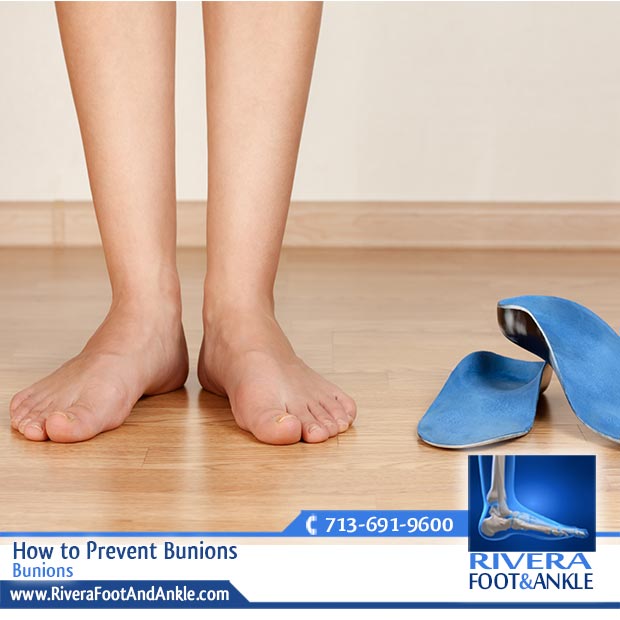 Podiatrist Houston.
Foot and Ankle, Dr. Orlando Rivera, Advanced Foot & Ankle Specialist, Foot and Ankle Podiatry, Houston Foot & Ankle Surgical, Treatment of Foot and Ankle, Foot & ankle specialists, Podiatrist in houston, podiatrist in houston, Orlando H.Rivera DPM, Houston Foot Doctor, Foot and Ankle Surgeon Houston, Ankle and Foot Specialist Houston, Podiatrist Houston, Foot Pain Houston.