Best Ways to Get Rid of Ingrown Toenails
01. - Soak your feet 3-4 times daily. Soak your foot (or feet) in warm, soapy water for 15-20 minutes, three to four times daily. Give the side of your nail fold a light massage every soak or two. This process will ease swelling and reduce soreness, but it is tedious. Get yourself some library books, some films, or anything to keep your sanity intact. Keep your foot clean and dry between soakings.
02. - Apply an antibiotic ointment. After soakings, you can apply an antibacterial ointment, and this can be done several times a day. If your ingrown toenail is obviously infected, start adding Epsom salts to your soaks, afterwards applying an antiseptic (hydrogen peroxide) and lightly bandaging the toe until you can see a doctor.
03. - Insert cotton under your toenail. After soaking when the nail and flesh are a bit softer, roll a small piece of cotton into a wick or tiny ball and insert it underneath the offending nail edge. This will create padding between the nail and the flesh it's biting. Replace the cotton after each soaking or cleaning. You may be able to insert the cotton a bit farther in after a few soakings. No, this isn't comfortable, but it's a good way to get rid of an ingrown toenail and save yourself from minor surgery.
4. - Wear the right shoes. While it's healing, treat your toe to shoes with wide and deep toe boxes or open toed shoes or sandals. Stay away from pointy, narrow shoes and footwear such as high heels and cowboy boots that put pressure on toes. But if your workplace poses a hazard to unprotected toes, stick with those steel toed boots.
5. - Get rid of ingrown toenail pain with OTC pain relievers. If routine soaking doesn't do enough to curb pain and discomfort, you can take OTC pain relievers such as ibuprofen or acetaminophen. If you feel like you need anything more it's a sure sign you need to go to the doctor.
Source: getridofthings
RIVERA FOOT & ANKLE: At Orlando H.Rivera DPM, our priority is to deliver quality care to informed patients in a comfortable and convenient setting. When you have problems with your feet, you need to turn to a podiatrist who listens and responds… an experienced doctor who knows the field and can effectively diagnose and treat your needs… a friendly physician who counsels you on the best ways to maintain and improve your health. Our physician(s) meet all these criteria. Plus, you benefit from a dedicated team of trained professionals who give you the individualized attention you deserve.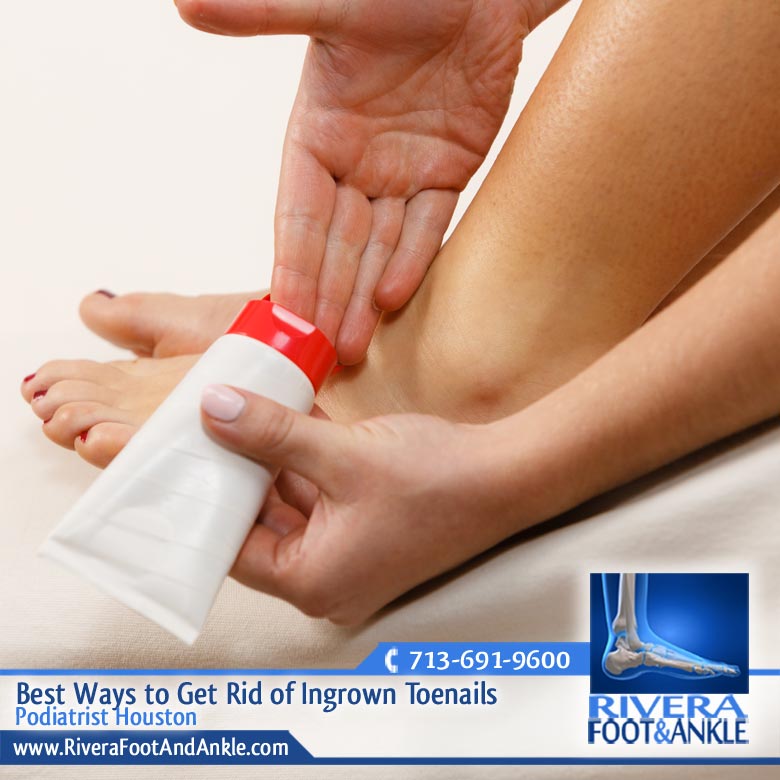 PODIATRIST HOUSTON.PODIATRIST HOUSTON.
Foot and Ankle, Dr. Orlando Rivera, Advanced Foot & Ankle Specialist, Foot and Ankle Podiatry, Houston Foot & Ankle Surgical, Treatment of Foot and Ankle, Foot & ankle specialists, Podiatrist in houston, podiatrist in houston, Orlando H.Rivera DPM, Houston Foot Doctor, Foot and Ankle Surgeon Houston, Ankle and Foot Specialist Houston, Podiatrist Houston, Foot Pain Houston.