Causes of Burning Foot Pain
1.-Peripheral Neuropathy. - Peripheral neuropathy is caused by damage to the nerves in the leg or foot, anywhere along their path from the spine down to the feet. It is the most common cause of burning pain in feet.
2.-Morton's Neuroma. - Thickening of the soft tissues surrounding one of the nerves in your foot.Anything which places pressure on the foot such as abnormal foot position, repetitive high-impact activities e.g. running or poor fitting footwear e.g. narrow shoes or high heels.
3.-Peripheral Vascular Disease. - Obstruction of the large arteries of the extremities (i.e. those not around the heart or brain) which limits blood flow. Also known as peripheral artery disease (PAD). Atherosclerosis (thickening of the artery wall), stenosis (narrowing of the artery) or a blood clot.
4.-Metatarsalgia. - Irritation and inflammation of the foot bones and surrounding soft tissues.
5.-Charcot-Marie Tooth Disease. - A group of disorders that affect the peripheral nerves.It is an inherited disorder caused by genetic mutation.
Source: Foot Pain Explored
RIVERA FOOT & ANKLE: At Orlando H.Rivera DPM, our priority is to deliver quality care to informed patients in a comfortable and convenient setting. When you have problems with your feet, you need to turn to a podiatrist who listens and responds… an experienced doctor who knows the field and can effectively diagnose and treat your needs… a friendly physician who counsels you on the best ways to maintain and improve your health. Our physician(s) meet all these criteria. Plus, you benefit from a dedicated team of trained professionals who give you the individualized attention you deserve.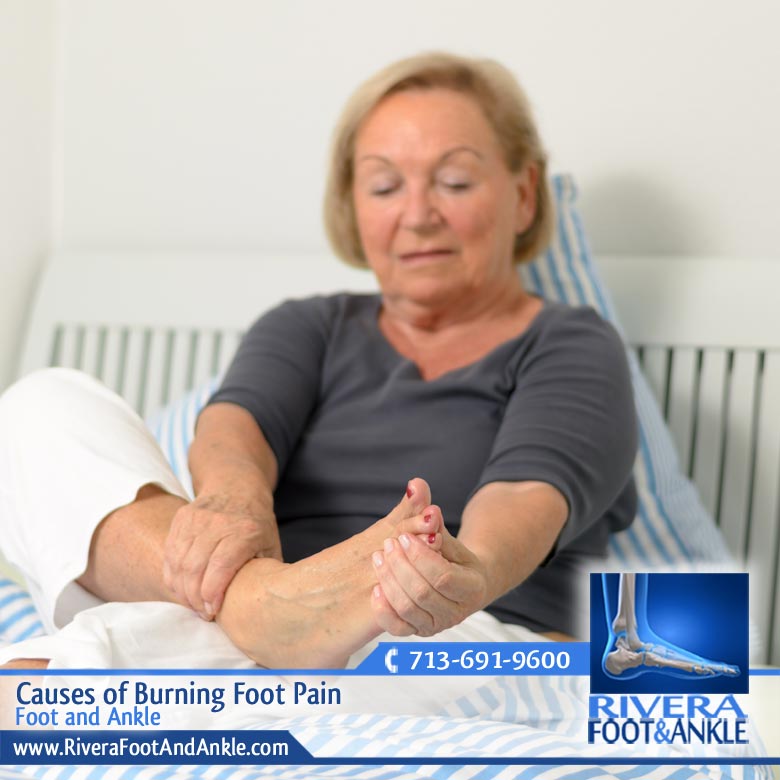 Foot and Ankle, Dr. Orlando Rivera, Advanced Foot & Ankle Specialist, Foot and Ankle Podiatry, Houston Foot & Ankle Surgical, Treatment of Foot and Ankle, Foot & ankle specialists, Podiatrist in houston, podiatrist in houston, Orlando H.Rivera DPM, Houston Foot Doctor, Foot and Ankle Surgeon Houston, Ankle and Foot Specialist Houston, Podiatrist Houston, Foot Pain Houston.