Different Styles of Bunion Splints
Bunion Toe Splints​. - These products are designed to hold the big toe in the correct position. You will also find bunion splints that also cushion the inflamed and irritated area. Some bunion toe splints or bunion regulators can be easily worn during the day when you are walking around. These kinds of products are best for mild to moderate bunions.
Bunion Night Splints​. - These are more rigid products that can be worn during the night. Sadly bunion night splints are not meant for wearing in the day or when you are walking. While you can use night splints for any stage, they work best for mild to severe cases.
Bunion Toe Spacers. - These spacers can sit comfortably between the toes and hold them in a more normal position. Toe stretchers or spacers can be used for mild to moderate bunions. There are three main types of toe spacers – single spacers, double spacers and whole foot toe stretchers.
Bunion Pads​. - These protective pads don't correct the alignment or the position of the big toe. Instead bunion pads cushion the inflamed bunion area and prevent it from rubbing against your shoes. An important thing to remember is that bunion pads don't improve bunions or stop them from progressing.
Plastic Bunion Guards​. - This interesting style of bunion splint can easily slide over the big toe and help reduce the pain and discomfort from bunions. The easy sliding design means that these splints can be used during the day with shoes. You will be surprised to know that bunion pads are one of the most solid designs of bunion pads and are extremely durable.
Bunion Sleeves.​ - Bunion sleeves another great way to get rid of pain and discomfort associated with bunions. The ultra-light bunion sleeves you find today use protective gel pads to relieve pain and manage pressure in the affected area. You can wear bunion sleeves underneath socks all you have to do is simply slide the product over the front of your feet. Because bunion sleeves hold their position well so you don't have to worry about them sliding off your foot.
Source: Justbunions
RIVERA FOOT & ANKLE: At Orlando H.Rivera DPM, our priority is to deliver quality care to informed patients in a comfortable and convenient setting. When you have problems with your feet, you need to turn to a podiatrist who listens and responds… an experienced doctor who knows the field and can effectively diagnose and treat your needs… a friendly physician who counsels you on the best ways to maintain and improve your health. Our physician(s) meet all these criteria. Plus, you benefit from a dedicated team of trained professionals who give you the individualized attention you deserve.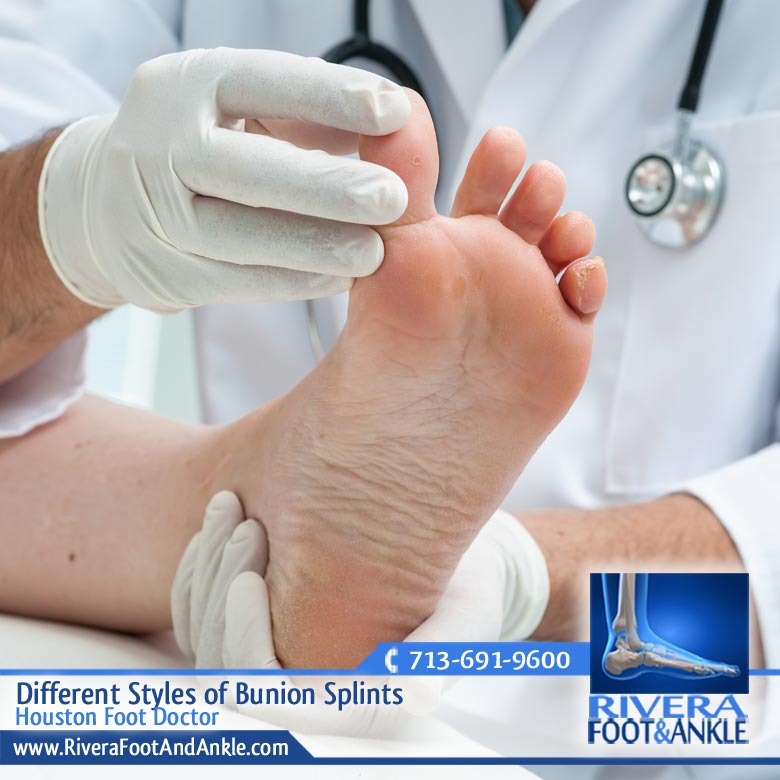 Foot and Ankle, Dr. Orlando Rivera, Advanced Foot & Ankle Specialist, Foot and Ankle Podiatry, Houston Foot & Ankle Surgical, Treatment of Foot and Ankle, Foot & ankle specialists, Podiatrist in houston, podiatrist in houston, Orlando H.Rivera DPM, Houston Foot Doctor, Foot and Ankle Surgeon Houston, Ankle and Foot Specialist Houston, Podiatrist Houston, Foot Pain Houston.