Treatment: Sprained Ankle
Advanced Foot & Ankle Specialist
The basic treatment of an ankle sprain is the R.I.C.E. approach (Rest, Ice, Compression, Elevation):
Rest and Activity Modification: Time is usually the best treatment for a typical ankle sprain. The body just takes time to heal the injured tissue. Resting the injured ankle by limiting activity during the initial healing period is helpful.

Ice: Applying ice to the injured ankle helps decrease swelling and improves pain control. Ice should be applied 10 minutes on and 10-15 minutes off repeatedly. Ice helps limit the blood flow to the injured ankle. Normally, increasing the blood flow to an area is a good thing. However, after an ankle sprain, excessive local blood flow leads to too much swelling during the acute phase of the injury
Compression: Compression helps decrease the swelling. This can be achieved with a compression wrap, such as an Ace bandage.

Elevation: Elevating the ankle (ex. placing two pillows under the leg while lying) helps to decrease swelling. Having the ankle down (ex. while standing) will tend to increase swelling and pain in the ankle.
Anti-inflammatory medications (NSAIDs):Non-Steroidal Anti-Inflammatory Drugs (NSAIDs) such as ibuprofen can be helpful in decreasing pain following an ankle sprain. NSAIDs lessen pain by decreasing the inflammatory response to the injury. However, there is some evidence that suggest that anti-inflammatories may have an adverse effect on ligament healing.
Source: Foot Education
RIVERA FOOT & ANKLE: At Orlando H.Rivera DPM, our priority is to deliver quality care to informed patients in a comfortable and convenient setting. When you have problems with your feet, you need to turn to a podiatrist who listens and responds… an experienced doctor who knows the field and can effectively diagnose and treat your needs… a friendly physician who counsels you on the best ways to maintain and improve your health. Our physician(s) meet all these criteria. Plus, you benefit from a dedicated team of trained professionals who give you the individualized attention you deserve.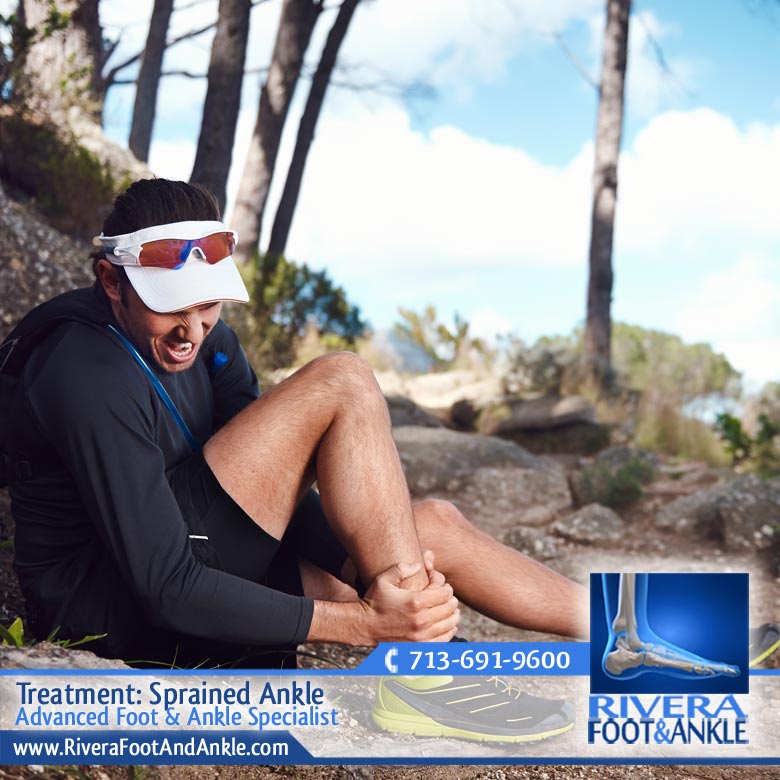 ADVANCED FOOT & ANKLE SPECIALIST.
Foot and Ankle, Dr. Orlando Rivera, Advanced Foot & Ankle Specialist, Foot and Ankle Podiatry, Houston Foot & Ankle Surgical, Treatment of Foot and Ankle, Foot & ankle specialists, Podiatrist in houston, podiatrist in houston, Orlando H.Rivera DPM, Houston Foot Doctor, Foot and Ankle Surgeon Houston, Ankle and Foot Specialist Houston, Podiatrist Houston, Foot Pain Houston.