What Is Plantar Fasciitis?
Plantar fasciitis causes pain in the bottom of the heel. The plantar fascia is a thin, web-like ligament that connects your heel to the front of your foot. It supports the arch of your foot and helps you walk.
Plantar fasciitis is one of the most common orthopedic complaints. Your plantar fascia ligaments experience a lot of wear and tear in your daily life. Normally, these ligaments act as shock absorbers, supporting the arch of the foot. Too much pressure on your feet can damage or tear the ligaments. The plantar fascia becomes inflamed, and the inflammation causes heel pain and stiffness.
The major complaint of those with plantar fasciitis is pain and stiffness in the bottom of the heel, although some experience pain at the bottom mid-foot area. This develops gradually over time. It usually affects just one foot, but it can affect both feet. Some people describe the pain as dull, while others experience a sharp pain, and some feel a burning or ache on the bottom of the foot extending outward from the heel.
The pain is usually worse in the morning when you take your first steps out of bed, or if you've been sitting or lying down for a while. Climbing stairs can be very difficult due to heel stiffness.
After prolonged activity, the pain can flare up due to increased inflammation. Pain isn't usually felt during the activity but rather just after stopping.
Source: Health Line
RIVERA FOOT & ANKLE: At Orlando H.Rivera DPM, our priority is to deliver quality care to informed patients in a comfortable and convenient setting. When you have problems with your feet, you need to turn to a podiatrist who listens and responds… an experienced doctor who knows the field and can effectively diagnose and treat your needs… a friendly physician who counsels you on the best ways to maintain and improve your health. Our physician(s) meet all these criteria. Plus, you benefit from a dedicated team of trained professionals who give you the individualized attention you deserve.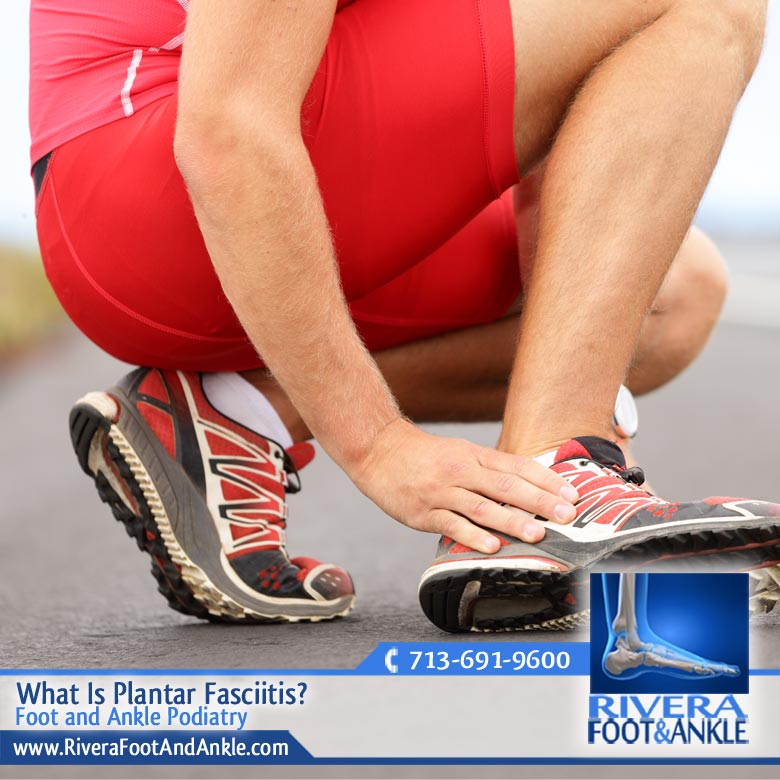 Foot and Ankle, Dr. Orlando Rivera, Advanced Foot & Ankle Specialist, Foot and Ankle Podiatry, Houston Foot & Ankle Surgical, Treatment of Foot and Ankle, Foot & ankle specialists, Podiatrist in houston, podiatrist in houston, Orlando H.Rivera DPM, Houston Foot Doctor, Foot and Ankle Surgeon Houston, Ankle and Foot Specialist Houston, Podiatrist Houston, Foot Pain Houston.