How to Live With a Broken Ankle Without Losing Your Mind
Ankle and Foot Specialist Houston
Stay Active (Physically) - If you are an athlete like myself, you probably hate the fact that you must be subjected to minimal movement and keeping your leg elevated and whatnot. Let me just say this, you are not alone. I thought I was going to go mad when my surgeon told me that I had to stay off of my leg for 6 weeks. However, I learned to cope physically by employing a couple of methods.
The Grip Master. - One thing that really helped me post-surgery, and in the following weeks, is this tiny product called Grip Master.The Grip Master was particularly helpful for me right after surgery when I found myself in a lot of pain; it gave me something to help take my mind off of the pain by directing my energy and concentration somewhere else.
Crutch Walking. - Crutch walking (assuming you can use crutches) is another good way to stay physically active. Most likely you will be told by your doctor to get up once every hour or two and walk around so that blood clots won't form. At first, this is quite a chore, because 1) crutch-walking is tiring, and 2) the last thing you will probably want to do post-surgery or post-a bad break is get up and walk around, but you should do it, if you can. As time goes by you will heal, and as you do I recommend getting up to walk around more and more. It will get you out of the chair or bed and moving your body.
Lift Weights (or Books) - The last bit of advice I can give in regards to the physical aspect of activity is to lift some weights (or anything for that matter) if you can. This was helpful for me because, once again, it gave me the sense, like with my use of the Grip Master, that I was making progress. I wouldn't recommend doing anything too drastic, just do many repetitions using a light to medium weighted object.
The best thing to do though is to be creative and resourceful. Think of new ways to stay active, talk to other people who have been in the same situation. This part of your life doesn't have to be a period of inactivity and depression, it can be great!
Source: Heal Dove
RIVERA FOOT & ANKLE: At Orlando H.Rivera DPM, our priority is to deliver quality care to informed patients in a comfortable and convenient setting. When you have problems with your feet, you need to turn to a podiatrist who listens and responds… an experienced doctor who knows the field and can effectively diagnose and treat your needs… a friendly physician who counsels you on the best ways to maintain and improve your health. Our physician(s) meet all these criteria. Plus, you benefit from a dedicated team of trained professionals who give you the individualized attention you deserve.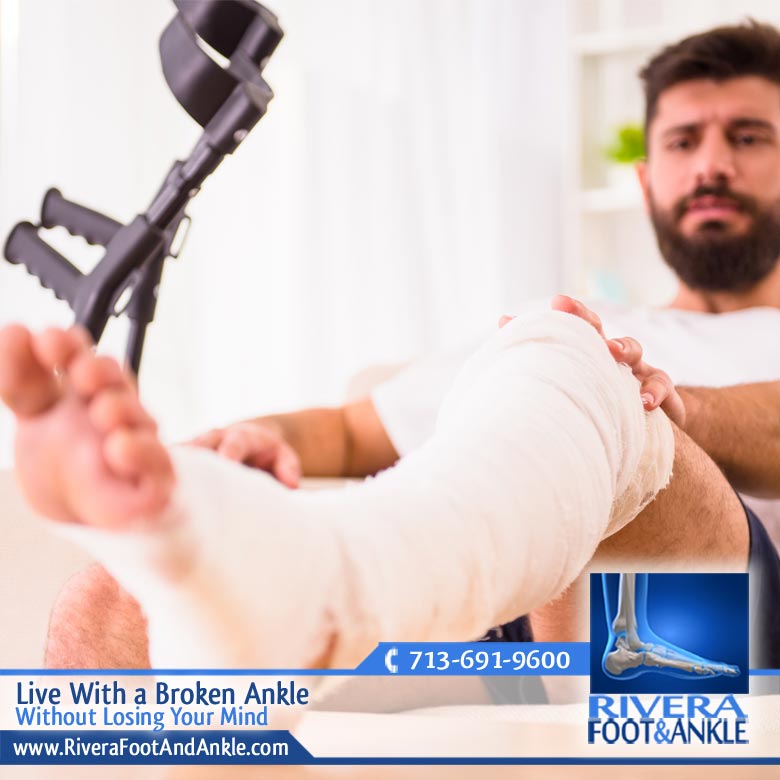 ANKLE AND FOOT SPECIALIST HOUSTON.
Foot and Ankle, Dr. Orlando Rivera, Advanced Foot & Ankle Specialist, Foot and Ankle Podiatry, Houston Foot & Ankle Surgical, Treatment of Foot and Ankle, Foot & ankle specialists, Podiatrist in houston, podiatrist in houston, Orlando H.Rivera DPM, Houston Foot Doctor, Foot and Ankle Surgeon Houston, Ankle and Foot Specialist Houston, Podiatrist Houston, Foot Pain Houston.