Easy and Good Tips to Have Healthy Feet
Take Care of Your Feet Everyday
Check your feet every day.
Check your feet for cuts, sores, red spots, swelling, and infected toenails. You may have foot problems, but feel no pain in your feet.
Check your feet each evening when you take off your shoes.
If you have trouble bending over to see your feet, use a mirror to help. You can also ask a family member or caregiver to help you.
Wash your feet every day.
Wash your feet in warm, not hot, water. Do not soak your feet because your skin will get dry.
Before bathing or showering, test the water to make sure it is not too hot. You can use a thermometer (90° to 95° F is safe) or your elbow to test the water.
Use talcum powder or cornstarch to keep the skin between your toes dry to prevent infection.
Keep the skin soft and smooth.
Rub a thin coat of lotion, cream, or petroleum jelly on the tops and bottoms of your feet.
Do not put lotion or cream between your toes because this might cause an infection.
Smooth corns and calluses gently.
Thick patches of skin called corns or calluses can grow on the feet. If you have corns or calluses, check with your foot doctor about the best way to care for them.
If your doctor tells you to, use a pumice stone to smooth corns and calluses after bathing or showering. A pumice stone is a type of rock used to smooth the skin. Rub gently, only in one direction, to avoid tearing the skin.
Do not cut corns and calluses.
Do not use razor blades, corn plasters, or liquid corn and callus removers, they can damage your skin and cause an infection.
Source: ndep
RIVERA FOOT & ANKLE: At Orlando H.Rivera DPM, our priority is to deliver quality care to informed patients in a comfortable and convenient setting. When you have problems with your feet, you need to turn to a podiatrist who listens and responds… an experienced doctor who knows the field and can effectively diagnose and treat your needs… a friendly physician who counsels you on the best ways to maintain and improve your health. Our physician(s) meet all these criteria. Plus, you benefit from a dedicated team of trained professionals who give you the individualized attention you deserve.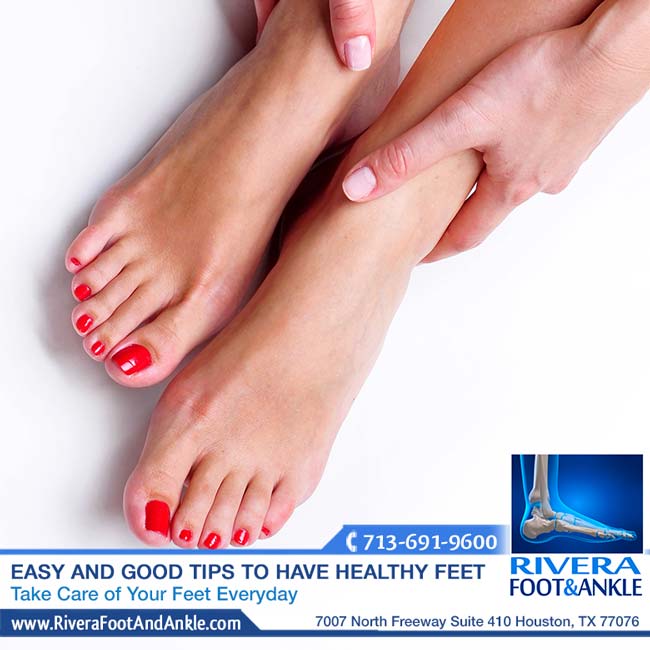 Advanced Foot & Ankle Specialist.
Foot and Ankle, Dr. Orlando Rivera, Advanced Foot & Ankle Specialist, Foot and Ankle Podiatry, Houston foot & Ankle Surgical, Treatment of Foot and Ankle, Foot & ankle specialists, Podiatrist in houston, podiatrist in houston, Orlando H.Rivera DPM, Houston Foot Doctor, foot and Ankle Surgeon Houston, Ankle and Foot Specialist Houston, Podiatrist Houston, Foot Pain Houston