How an Ankle Fracture Happens?
Three Different Bones can be Fractured
When a bone breaks or cracks, the injury is called a fracture. In the ankle, three different bones can be fractured:
The tibia - This is the larger of the two bones in the lower leg. The tibia's lower end flares out, forming a hard, bony knob, called the medial malleolus, which you can feel at the inside of your ankle.
The fibula - This is the thinner of the two bones of the lower leg. Its lower end forms a hard, bony knob, called the lateral malleolus, which you can feel at the outside of your ankle.
The talus - This is a wedge-shaped bone that is located deep inside the ankle, braced between the heel bone and the ends of the tibia and fibula. The talus supports the lower ends of the tibia and fibula, and it forms a solid base for the normal range of ankle movements.
If you have a fractured ankle, your symptoms probably will include:
Pain, swelling, tenderness and bruising at your ankle joint
Inability to move your ankle through its normal range of motion
Inability to bear weight on your injured ankle. However, if you can bear weight on the ankle, don't assume there is no fracture.
In some cases, a "crack" or "snap" in the ankle at the time of injury
In open fractures, severe ankle deformity, with portions of the fractured bone visible through broken skin
After reviewing your symptoms, the doctor will want to know:
How and when your injury happened
Whether swelling and bruising developed immediately (often a sign of a more serious injury) or several hours later
Whether you had difficulty putting weight on your ankle immediately after the injury happened
In addition, your doctor will review your medical history, especially any previous injuries to your ankle, foot or lower leg. If you have symptoms of an open fracture, the doctor also will want to know the approximate date of your last tetanus shot.
Source: drugs
RIVERA FOOT & ANKLE: At Orlando H.Rivera DPM, our priority is to deliver quality care to informed patients in a comfortable and convenient setting. When you have problems with your feet, you need to turn to a podiatrist who listens and responds… an experienced doctor who knows the field and can effectively diagnose and treat your needs… a friendly physician who counsels you on the best ways to maintain and improve your health. Our physician(s) meet all these criteria. Plus, you benefit from a dedicated team of trained professionals who give you the individualized attention you deserve.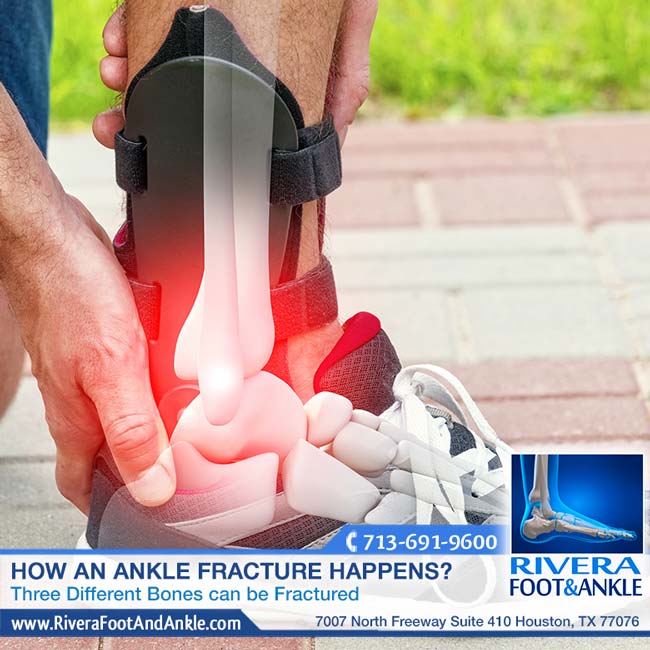 Podiatrist Houston
Foot and Ankle, Dr. Orlando Rivera, Advanced Foot & Ankle Specialist, Foot and Ankle Podiatry, Houston foot & Ankle Surgical, Treatment of Foot and Ankle, Foot & ankle specialists, Podiatrist in houston, podiatrist in houston, Orlando H.Rivera DPM, Houston Foot Doctor, foot and Ankle Surgeon Houston, Ankle and Foot Specialist Houston, Podiatrist Houston, Foot Pain Houston