Rest, Ice, Compression, and Elevation
As soon as possible after an injury, such as a knee or ankle sprain, you can relieve pain and swelling and promote healing and flexibility with RICE, Rest, Ice, Compression, and Elevation.
Rest. Rest and protect the injured or sore area. Stop, change, or take a break from any activity that may be causing your pain or soreness.
Ice. Cold will reduce pain and swelling. Apply an ice or cold pack right away to prevent or minimize swelling. Apply the ice or cold pack for 10 to 20 minutes, 3 or more times a day. After 48 to 72 hours, if swelling is gone, apply heat to the area that hurts. Do not apply ice or heat directly to the skin. Place a towel over the cold or heat pack before applying it to the skin.
Compression. Compression, or wrapping the injured or sore area with an elastic bandage (such as an Ace wrap), will help decrease swelling. Don't wrap it too tightly, because this can cause more swelling below the affected area. Loosen the bandage if it gets too tight. Signs that the bandage is too tight include numbness, tingling, increased pain, coolness, or swelling in the area below the bandage. Talk to your doctor if you think you need to use a wrap for longer than 48 to 72 hours; a more serious problem may be present.
Elevation. Elevate the injured or sore area on pillows while applying ice and anytime you are sitting or lying down. Try to keep the area at or above the level of your heart to help minimize swelling.
Source: webmd
RIVERA FOOT & ANKLE: At Orlando H.Rivera DPM, our priority is to deliver quality care to informed patients in a comfortable and convenient setting. When you have problems with your feet, you need to turn to a podiatrist who listens and responds… an experienced doctor who knows the field and can effectively diagnose and treat your needs… a friendly physician who counsels you on the best ways to maintain and improve your health. Our physician(s) meet all these criteria. Plus, you benefit from a dedicated team of trained professionals who give you the individualized attention you deserve.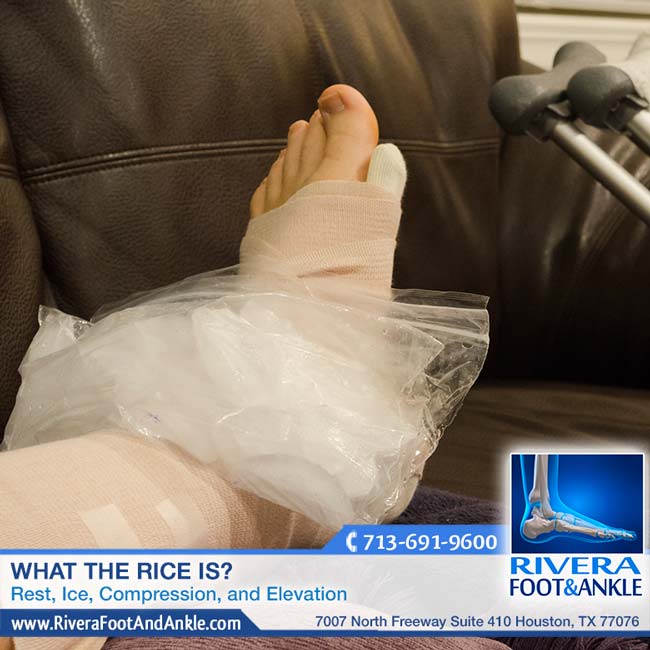 Foot and Ankle Surgeon Houston
Foot and Ankle, Dr. Orlando Rivera, Advanced Foot & Ankle Specialist, Foot and Ankle Podiatry, Houston foot & Ankle Surgical, Treatment of Foot and Ankle, Foot & ankle specialists, Podiatrist in houston, podiatrist in houston, Orlando H.Rivera DPM, Houston Foot Doctor, foot and Ankle Surgeon Houston, Ankle and Foot Specialist Houston, Podiatrist Houston, Foot Pain Houston