Getting Back into Sports after Foot and Ankle Injuries
Rehabilitation is the Key
One of the most common injuries that athletes suffer from is a sprained ankle, a very painful and frustrating problem. A sprained ankle usually causes one to avoid participating in sports, and once someone has sprained their ankle, they are very likely to sprain it again.
To get back into sports after a sprained ankle, one should follow the RICE method, which is consistently recommended by physical therapists and sports medicine doctors. The RICE method involves rest, ice, compression, and elevation. If one follows the RICE method soon after experiencing a sprained ankle, he or she will likely get back to the playing fields in no time. In addition to using the RICE method, an athlete should wear an ankle brace after experiencing a sprained ankle to help alleviate the pain and keep the ankle safe until it heels. A brace will also help to stabilize the ankle, and prevent serious injuries in the future. Many times, people suffer from sprained ankles due to weak ligaments near the ankle; because an ankle brace keeps the ligaments in the foot from moving too much, it will help someone avoid this injury.
Fractures in the foot and ankle are another common type of injury athletes suffer. Stress fractures typically occur in the bones of the forefoot. An athlete will usually experience stress fractures if he or she partakes in a sudden increase in athletic training. A stress fracture can be either stable or displaced. A stable stress fracture involves no shift in bone alignment, while a displaced stress fracture involves bone ends that no longer line up.
Source: thepodiatrycenter
RIVERA FOOT & ANKLE: At Orlando H.Rivera DPM, our priority is to deliver quality care to informed patients in a comfortable and convenient setting. When you have problems with your feet, you need to turn to a podiatrist who listens and responds… an experienced doctor who knows the field and can effectively diagnose and treat your needs… a friendly physician who counsels you on the best ways to maintain and improve your health. Our physician(s) meet all these criteria. Plus, you benefit from a dedicated team of trained professionals who give you the individualized attention you deserve.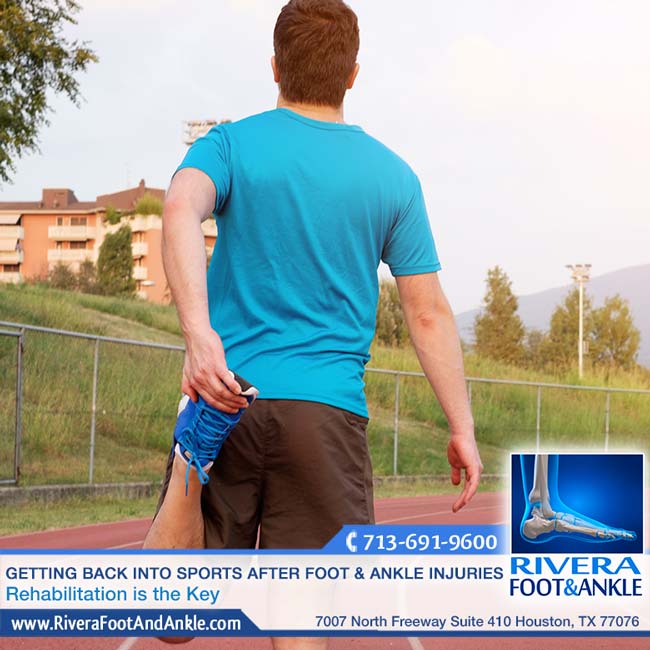 Houston Foot Doctor
Foot and Ankle, Dr. Orlando Rivera, Advanced Foot & Ankle Specialist, Foot and Ankle Podiatry, Houston foot & Ankle Surgical, Treatment of Foot and Ankle, Foot & ankle specialists, Podiatrist in houston, podiatrist in houston, Orlando H.Rivera DPM, Houston Foot Doctor, foot and Ankle Surgeon Houston, Ankle and Foot Specialist Houston, Podiatrist Houston, Foot Pain Houston