Foot Care Tips for Men and Women
5 Amazing Foot Care Tips
1. Washing: Wash your feet daily with look warm soapy water. Dry your feet thoroughly. Make sure to dry with a towel especially between the toes also. A best exercise is to put some marbles in the bath water and roll your feet around on the top of them to stimulate the nerve endings. This is a good natural foot care tip.
2. Dead cells: While washing your feet, scrub them, especially the heels, with a foot scrubber regularly. This is good for removing the dead cells and keeps your feet soft. This is a preventive foot care tip. Read on here for how to heal cracked heels.
3. Toenails: Trim your toenails straight across and then smooth the edges with an emery board or a nail file each week or when needed. Trim your toenails after bath or shower as they are soft at that time and easy to cut.
4. Corns and Calluses: Total Foot care tips require that you take care of dead skin that forms at the pressure points such as heels, toes and bony areas of your feet. They are common, if you wear sandals or flip-flops due to the repeated friction of your feet at certain points when you move around. Use a pumice stone or a foot file to smooth corns and calluses after bath or shower. Do not use sharp objects to remove them. You can also apply some over-the-counter creams that contain lactic acid to hydrate and exfoliate your dead skin. Avoid medicated corn and callus removal pads, as they can burn your skin and aggravate the problem. For harder cases, consult your podiatrist as he may prescribe some stronger moisturizing lotions.
5. Selection of foot wear: A good foot care tip is to make sure that your shoes fit with sufficient room to twist your toes. When you buy shoes, get your feet measured while standing and not sitting and preferably later in the day when the feet are a bit swollen. The size and shape of your feet change with age due to daily pressure and pregnancy. Before you put on shoes, look for any foreign objects inside such as gravel as that can cause irritation or sores. Wear comfortable shoes that have smooth lining and fit well. Wear clean well-fitting cotton socks.
Source: naturalbeautytips
RIVERA FOOT & ANKLE: At Orlando H.Rivera DPM, our priority is to deliver quality care to informed patients in a comfortable and convenient setting. When you have problems with your feet, you need to turn to a podiatrist who listens and responds… an experienced doctor who knows the field and can effectively diagnose and treat your needs… a friendly physician who counsels you on the best ways to maintain and improve your health. Our physician(s) meet all these criteria. Plus, you benefit from a dedicated team of trained professionals who give you the individualized attention you deserve.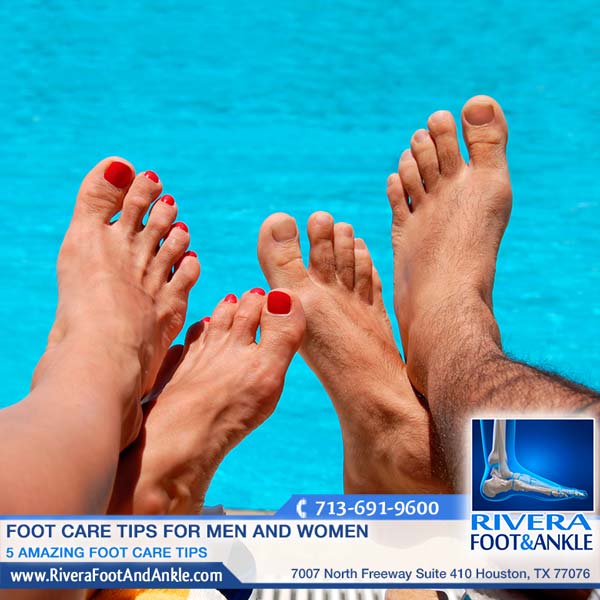 Treatment of Foot and Ankle
Foot and Ankle, Dr. Orlando Rivera, Advanced Foot & Ankle Specialist, Foot and Ankle Podiatry, Houston foot & Ankle Surgical, Treatment of Foot and Ankle, Foot & ankle specialists, Podiatrist in houston, podiatrist in houston, Orlando H.Rivera DPM, Houston Foot Doctor, foot and Ankle Surgeon Houston, Ankle and Foot Specialist Houston, Podiatrist Houston, Foot Pain Houston