Playing Sports And Foot Injuries
Is Very Easy Being injured
There are many types of foot injuries common among athletes such as plantar fasciitis, overpronation, strains, turf toe, heel spurs, and stress fractures of the foot. Plantar fasciitis is when the thick ligament in the base of the foot becomes swollen, and causes pain.
Overpronation is excessive movement of the foot during gait. Pronation would be normal movement of the gait, but when movements become excessive, it leads to a variety of areas becoming painful due to the overpronation. The most common complaint is a burning sensation or inflammation under the arch of the foot, often called strain or arch pain. Heel spurs are growths of the bone in the heel where soft tissues and tendons connect. Turf toe comes from upward bending of the big toe outside of the normal range of motion. It most commonly occurs in athletes that play on artificial surfaces because a shoe grips the surface and forces and athletes weight forward causing the upward bending of the large toe. This causes damage by stretching the ligaments under the toe. Stress fractures could be caused by overuse due to muscle fatigue in the foot, preventing the muscles and ligaments from absorbing the shock and trauma.
Source: thepodiatrycenter
RIVERA FOOT & ANKLE: At Orlando H.Rivera DPM, our priority is to deliver quality care to informed patients in a comfortable and convenient setting. When you have problems with your feet, you need to turn to a podiatrist who listens and responds… an experienced doctor who knows the field and can effectively diagnose and treat your needs… a friendly physician who counsels you on the best ways to maintain and improve your health. Our physician(s) meet all these criteria. Plus, you benefit from a dedicated team of trained professionals who give you the individualized attention you deserve.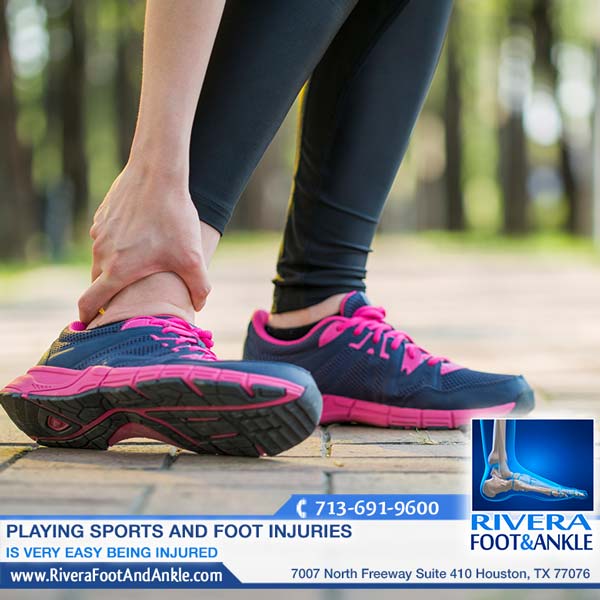 Houston foot & Ankle Surgical
Foot and Ankle, Dr. Orlando Rivera, Advanced Foot & Ankle Specialist, Foot and Ankle Podiatry, Houston foot & Ankle Surgical, Treatment of Foot and Ankle, Foot & ankle specialists, Podiatrist in houston, podiatrist in houston, Orlando H.Rivera DPM, Houston Foot Doctor, foot and Ankle Surgeon Houston, Ankle and Foot Specialist Houston, Podiatrist Houston, Foot Pain Houston