What to Do With Blisters?
Prevention and Treatment
This is probably the number one race day injury. These fluid-filled bubbles are caused by friction, excessive moisture (sweaty feet, wet weather), or shoes that are too small, too big, or tied too tight.
Buying properly fitted running shoes may sound like a no brainer, but consider this: Studies show that fewer than half of people's running shoes were fit correctly.
Because your feet can expand a half size over a day, shop in the late afternoon or evening. If you've been on a running hiatus, don't assume you can jump into your old pair. As you age, your feet flatten and lengthen, so you may need to go up a size. If you get toe blisters, use "toe socks," which fit like a glove. Putting Vaseline, sports lube, and bandages over blister-prone spots may also help.
Ignore blisters smaller than five millimeters (the size of a pencil eraser) since they're usually not painful. But go ahead and pop doozies, especially if they hurt. With a sterile needle, prick the side of the blister and drain it. Don't remove the blister roof cover it with an antibiotic ointment and moleskin or a bandage. If you feel a hot spot midrun, address possible causes:
Are your socks bunching up?
Is your heel slipping?
Are your laces too tight?
If the blister hurts so badly that you're forced to change your gait, you're better off walking versus risking injury.
RIVERA FOOT & ANKLE:
At Orlando H.Rivera DPM, our priority is to deliver quality care to informed patients in a comfortable and convenient setting. When you have problems with your feet, you need to turn to a podiatrist who listens and responds… an experienced doctor who knows the field and can effectively diagnose and treat your needs… a friendly physician who counsels you on the best ways to maintain and improve your health. Our physician(s) meet all these criteria. Plus, you benefit from a dedicated team of trained professionals who give you the individualized attention you deserve.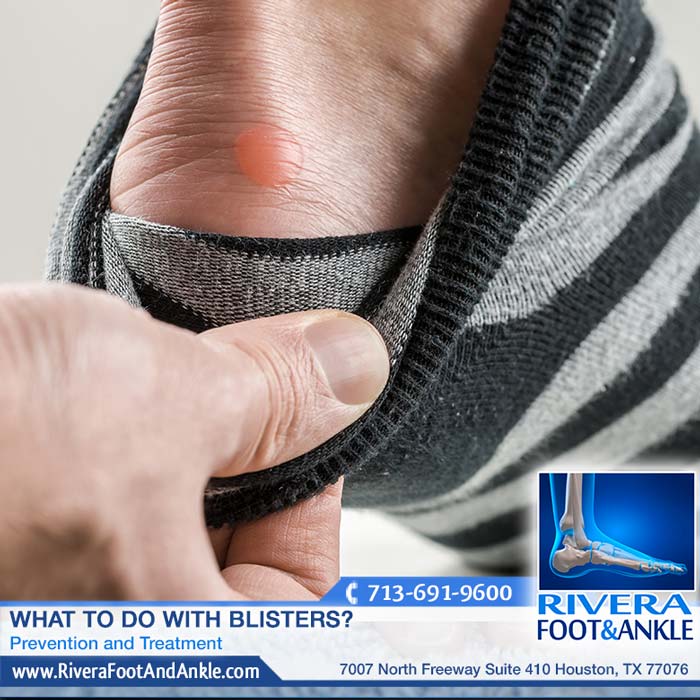 Best Foot and Ankle Surgical in Houston
Foot and Ankle, Dr. Orlando Rivera, Advanced Foot and Ankle Specialist, Foot and Ankle Podiatry, Houston Foot and Ankle Surgical, Treatment of Foot and Ankle, Foot and ankle specialists, Podiatrist in houston, podiatrist in houston, Orlando H.Rivera DPM, Houston Foot Doctor, Foot and Ankle Surgeon Houston, Ankle and Foot Specialist Houston, Podiatrist Houston, Foot Pain Houston,Best Foot And Ankle Clinics.