Different Types of Foot Fracture
Many Fractures Don't Require Surgery
With 26 bones in a single foot, almost any of them can be broken. Many fractures do not require surgery, or even a cast, as they will heal on their own with some support. When a foot is fractured, the site of the fracture usually is painful and swollen. The site of the fracture will determine the course of treatment, if necessary, including the following:
Ankle joint fractures. These fractures may be serious and require immediate medical attention. Ankle fractures usually require a cast, and some may require surgery if the bones are too separated or misaligned.
Metatarsal bone fractures. Fractures of the metatarsal bones, located in the middle of the foot, often do not require a cast. A stiff-soled shoe may be all that is needed for support as the foot heals. Sometimes, surgery is needed to correct misaligned bones or fractured segments.
Sesamoid bone fractures. The sesamoid bones are two small, round bones at the end of the metatarsal bone of the big toe. Usually, padded soles can help relieve pain. However, sometimes, the sesamoid bone may have to be surgically removed.
Toe fractures. Fractures of the toes normally can heal with or without a cast.
RIVERA FOOT & ANKLE: Para Rivera Foot & Ankle, nuestra prioridad es ofrecer atención de calidad a pacientes informados, en un ambiente adecuado y cómodo. Cuando usted tiene problemas con sus pies, es necesario acudir a un podólogo que escucha y responde, un médico experimentado que conoce el campo y que pueda diagnosticar y tratar a sus necesidades, un médico amable que oriente acerca de las mejores maneras de mantener y mejorar su salud. Nuestro médico cumple con todos estos criterios. Además, se beneficiará de un equipo dedicado de profesionales capacitados que le brindarán la atención personalizada que usted merece.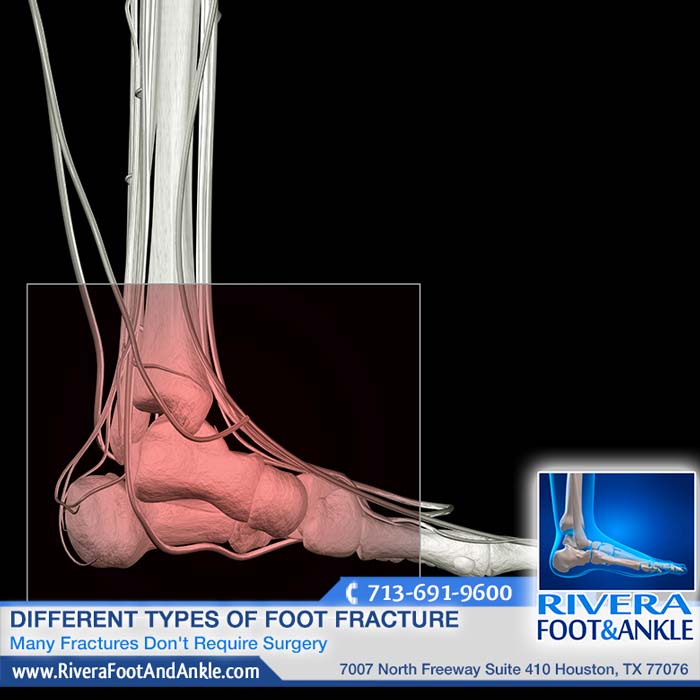 Especialistas de Pie y Tobillo en Houston
Pie y Tobillo, Dr. Orlando Rivera, Médico Especialista en Pie y Tobillo, Podólogo de Pie y Tobillo, Médico Cirujano para Pie y Tobillo en Houston TX, Tratamiento del Pie y el Tobillo, Especialistas de Pie y Tobillo, Podiatra en houston, Orlando H.Rivera DPM, Médico para pies, Cirujano de pie y tobillo, Podiatra.